You may have never considered getting a range hood, but it's time you should. Having a range hood in your kitchen can improve your air quality and prevent heat, smoke, grease, or moisture build-up. Even if your kitchen already has a range hood, it's still a good idea to update it to a more economical and efficient model.
If you're looking to upgrade or install a new one, then start your search here with this Akdy Range Hood review. This ventilation hood not only looks nice, but it has unmatched air suction that will keep your kitchen feeling cleaner than ever.
Keep reading to learn more about what makes this range hood unique so you can decide if it's right for your home.
AKDY Range Hood Review
Pros
Sleek black stainless steel
Extremely quiet
Efficient filter
LED lights
Compliant with US and Canadian ETL safety standards.
Cons
Advanced installation
Pricey
Heavy
Key Features:
Pyramid-shaped design
186W motor
Four different speed levels
Super quiet
Specs:
Weight: 62.5 pounds
Dimensions: 23.6 x 35.4 x 47.8 inches
Airflow displacement: 335 cubic feet per minute
Material: Stainless steel
Benefits of AKDY Range Hood
This range hood has a lot to offer when it comes to kitchen ventilation, which you'll learn all about in this Akdy Island Range Hood review. From its powerful air extraction to the beautiful design, you'll soon see why this should be a top option when shopping for your new hood range ventilation system.
Quality Filtration
When shopping for a range hood, the first thing you want to look for is making sure it offers high-level suction to extract and filter the air, and this AKDY island model has it! That's because of its powerful 186W motor and four different speed settings that allow you to choose its air extraction intensity.
However, that's not the only reason why this range hood does such an excellent job at keeping your kitchen air clean. It also has baffle filters that create efficient airflow and ventilation. These filters, too, do an excellent job at trapping grease. Best of all, the filters are easy to remove and are dishwasher safe, so keeping your hood free of oil and residue is effortless.
Low Noise
If you already have a range hood in your home, you're probably looking for a quieter upgrade. These kinds of vents can get pretty loud even on their lowest speed, but not the Akdy range hood. Thanks to its 1.5A motor, this is a powerful yet quiet hood range, so the low noise levels won't cause you to lose out on air extraction and filtration.
Obviously, the higher the fan speed, the louder it will be, but this range hood is relatively quiet even at its fastest rate. There's even an option to opt for ductless recirculating installation with Akdy's carbon filter kit, reducing the noise even more. Be aware, though, that this option isn't included and is an extra cost.
Modern Design
An excellent range hood vent can add some style to your kitchen, something this Akdy model isn't short on. The smooth stainless steel is painted black giving it a sleek look to make any kitchen look more sophisticated. It's minimal pyramid design also adds to the modern feel it adds, so it will really make a statement.
This range hood is also designed to fit over an island, turning it into a real focal point. To top it all off, you'll love the four LED lights that are built into the hood range, which will brighten up your kitchen and allow you to get things done easier. With style like this, it's hard not to love this range hood.
ETL Compliant
One highlight of this Akdy island range hood review is that this product is compliant with the ETL in both the US and Canada. This is important because it shows Akdy's commitment to manufacturing only the highest quality range hoods with the newest technology. What makes this one truly stand out is that the light and airflow are both up to code.
It might seem like all hood ranges are compliant in these areas, but that's not always the case, especially with imported options. If you're looking for an energy and air efficient solution for your kitchen, this Akdy range hood is an excellent option since it's ETL certified.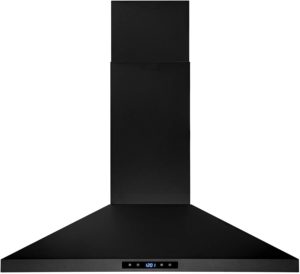 What Are the Pros & Cons?
There aren't many cons when it comes to this range hood, but the first thing that stands out is the price. Compared to similar products, this one is a little higher than average. Still, for the high-level extraction and the sleek design, this difference is well worth the cost. You just can't beat getting the perfect balance of form and function!
There is another downside, though, and that's that the instructions could be more detailed. They're clear enough, but there are a couple of things that you may get tripped up on, especially if you're not used to doing DIY work. For this range hood, it's best to get familiar with all the pieces and read the instructions several times before diving into the installation.
The only thing that makes installation a little more challenging is the weight. Range hoods are usually a two-person job, but you may want to get a third person to hold the 62.5-pound weight of the AKDY range hood. Since it's an island design, it can be even more bulky and awkward to install since you won't have a wall to use as leverage.
An Economical Upgrade for Your Kitchen
In this AKDY Range Hood review, you learned about what sets this hood apart from other ventilation systems.
Although it is on the pricier side, it does an excellent job of suctioning up the air quickly and quietly. That, combined with the modern style, makes this range hood a smart, economical addition to your kitchen.
---
See More Range Hoods: