Are you looking for the best double induction cooktop? Here are our top five choices for 2021, as well as some additional information on how these compare to other cooktops and answers to some common questions.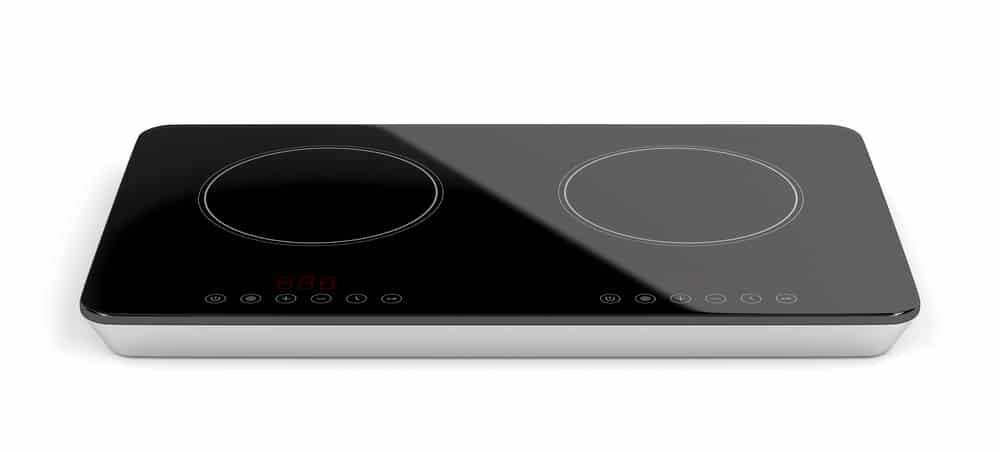 Best 2 Burner Induction Cooktops
Best Double Induction Cooktops
Here are our favorite 2 burner induction cooktop choices.
1. AMZCHEF Double Induction Cooktop
AMZCHEF's signature double induction cooktop is an affordable option with an excellent balance of power, durability, design, and safety features.
Pros
A durable crystal glass surface
Ten temperature levels, ranging from 140 to 464 degrees
It comes with a built-in cooking timer
The automatic off system can help prevent fires
Cons
Only has a one-year warranty
It has a break in the middle instead of a single solid surface
This well-designed double induction cooktop offers an excellent selection of features at a reasonable price point, making it our top choice for 2021. Like most double induction cooktops, this unit features independent controls on both sides. Notably, it lets you cook based on power or temperature, which is always a great touch.
The surface on the top uses crystal glass, which is a durable and easy-to-clean material for cooktops. It's not unique, but it is a good choice for this price range. We also like the use of sensor touch buttons, which are generally more durable than physical buttons for cooktops.
However, it's the safety features that truly set this cooktop apart from the competition, and two of them stick out. The first is the cooking timer, which ranges from 1 to 180 minutes and can automatically shut off the burner when it's done. This makes it much safer and easier to use for long periods, though we don't recommend leaving any cooktop totally unattended.
The other safety feature is a child safety lock, which prevents accidental touches on the controls from interrupting cooking. That's a feature more cooktops should have, and it's helpful if you expect to have a busy kitchen.
Finally, the six anti-slip feet provide an extra touch of protection. Bumping countertops can disrupt other induction cooktops, so these are a thoughtful touch that completes an already great unit.
Of course, no cooktops are perfect. This unit has a bit of a break in the middle that you can see under the glass, and that's not quite as good for structural integrity. This unit probably won't break on you, but it's worth noting. It's also limited to a one-year warranty, and we'd like to see a much better protection plan for something in this price range.
---
2. Duxtop Double Induction Cooktop
Best Double Induction Cooktop for Temperature Control
Duxtop isn't an especially well-known brand, but this premium cooktop offers a much more precise temperate selection than the competitors.
Pros
20 temperature levels in each mode
Includes a power-sharing feature to increase efficiency
Programmable for up to 10 hours
Full glass surface
Cons
More expensive than the competitors
Limited power on the right when only using one burner
Duxtop's premium double induction cooktop is certainly worth a look if you're in the market for a high-quality cooktop. However, the thing that stands out about this product is the unusually high number of temperature settings. Most induction cooktops have 8-10 options per mode, but this unit offers 20, and precision is always nice to see.
This cooktop also has an unusually long digital timer, capping out at 10 hours. That's more than three times as long as the AMZCHEF above, making this product a much better choice if you want to do slow cooking while you're out of the house.
Its overall temperature ranges from about 100 degrees to 460 degrees, which is also a wider range than our top choice. As you might have guessed, this is a better unit in terms of overall performance, but it doesn't get the top spot because it's also noticeably more expensive than anything else on this list.
We particularly like the fast boil button, which is useful enough to see regular operation in most households. Meanwhile, the nice angle on the control panel provides excellent visibility for the system, even at a distance.
Other notable features include overheating protection, a child lock, and even automatic pan detection. In short, there's a lot to love here.
However, there are a few things to keep in mind about its performance. The first is that the left burner is stronger than the right one. More specifically, the left burner can use the full 1800W of power when only one burner is on, while the right burner is limited to 1000W max.
If you're using both burners, the system automatically adjusts to not exceed 1800W total. This means that both sides will run to a maximum of 900W at equal temperature settings, which is relatively low for cooking things quickly.
Look at this product if you want many controls, or if you want the best option and price isn't a concern.
---
3. Aobosi Induction Burner
Best Budget Double Induction Cooktop
Aobosi's burner doesn't have as many features as some of the more expensive options, but it's quite durable and offers excellent performance for its lower price.
Pros
Good balance between each of the burners
Reasonable four-hour timer
Excellent warranty period
It comes with a keep-warm system
Cons
Occasionally has temperature sensor issues
High preset temperature
Aobori's induction burner is a great budget option, although the price range on double induction cooktops is small enough that pricing alone shouldn't be a significant factor in your decisions. However, despite its lower price point, it has some features that we like a lot.
One of the more notable features is the power range between the two sides. The left side goes from 200 to 1800 watts, while the right side goes from 200 to 1600. That's much more even than the Duxtop above, and it helps this cooktop stand out as a useful choice for most kitchens.
This unit also comes with a 24-month warranty on its performance, which is roughly twice as long as most of its competitors. That's assuming competitors offer a warranty at all, as many of them will use a basic 30-day store warranty instead. In short, this cooktop offers great protection to offset its lower price point.
For settings, this burner includes nine settings total, though each burner only has eight as the left is a little more powerful than the other. It also comes with temperature settings, which are the same on both sides and rise by about 36 degrees at a time. That's not as good as the Duxtop, but it's good enough for most families.
For timers, this unit comes with a four-hour cooking timer, as well as a two-hour keep warm system to help keep your food hot enough to enjoy. Outside of that, this unit is relatively quiet for a cooktop and integrates the controls into the cooktop to help minimize space.
There are two potential issues, however, and that's fairly normal for products in this price range. First, the regular preset is for the max temperature. That's good if you need to boil water regularly, but we'd much rather see a preset somewhere in the middle that you can adjust up or down as needed. That's fundamentally more useful for people.
Second, the temperature sensors can have problems, and that's mostly because of the cheaper parts they use. You may need to ignore its numbers and adjust the pricing manually.
In short, you get what you pay for when you're looking for the best double induction cooktop.
---
4. Dyrabrest Double Induction Cooktop
Dyrabrest's double induction cooktop is an excellent budget choice, but it also stands out for having a higher maximum wattage than most other units.
Pros
Draws up to 2400W across its burners
More affordable than any other option on this list
Excellent for even heating
Cons
Not as durable as premium options
Relatively little-known manufacturer
Dyrabrest's double induction cooktop immediately stands out from the competitors because of its use and distribution of power. Most double induction cooktops are 1800W units that can only provide maximum power on one side, but this unit draws 2400W at max and evenly distributes 1200W to both sides.
What this means is that neither side offers as much power as other units offer, but it can maintain even temperatures on both sides as long as your plugs support the power draw. That alone makes it worth considering, especially if you want to make the same dish on multiple burners simultaneously.
Like most double induction cooktops, this unit features a black crystal panel on top, offering excellent temperature resistance and an easy-to-clean face. It also offers a large fan for better heat dissipation under the unit, while also maintaining useful safety features like a locking system.
That said, you're going to get what you pay for, and this manufacturer simply isn't as established or well-known as some other brands. That means you may have more trouble if you need to contact customer service, although most people who've bought this product seem to like it.
In other words, this isn't our favorite budget option, but it's worth considering if the price is important.
---
5. Noxton Induction Cooktop
Noxton's dual induction stovetop immediately stands out thanks to its unusual vertical orientation and exceptionally high power.
Pros
Maximum of 3500W of power
The unusual shape can be easier to use in some kitchens
Cooks faster than many competitors
Surprisingly competitive pricing
Cons
Needs professional installation
Limited displays and controls
Noxton's induction cooktop is somewhat unique on this list for a couple of reasons. These make it hard to recommend to everyone, but at the same time, it's a much better choice for some kitchens.
The first thing that stands out is the orientation. Most induction cooktops are horizontal, which lets you place your pots side-by-side. This unit is vertical, so pots go in the front and back instead. That makes it better for counters that are deep, but not as wide as you'd like. A stovetop is a significant amount of counter space, so this matters in some kitchens.
The next major detail is the power. At 3500W, this unit needs a 220-240V plug, which is larger than most kitchens have. In fact, it's high enough that you may need to have a professional electrician come and install it. One of the burners has a maximum of 2000W, which is higher than anything else on this list and great for high-temperature cooking.
Other features here include a child lock and ergonomic touch controls. Unfortunately, there are a few drawbacks to consider.
The biggest drawback is the cooking timer, which stops at 99 minutes. That's significantly lower than most of its competitors, and in our view, it's much lower than it should be for a product in the premium pricing range. It doesn't need to be 10 hours, but having at least 4 hours would be much more useful.
This cooktop doesn't have as many displays or controls as some other units, either. In short, this is a great cooktop to buy if you want to get as much power as possible, but its drawbacks stop it from being the best choice for anyone who wants a regular unit with more controls.
How We Picked Double Induction Cooktops
Double induction cooktops are interesting kitchen tools because they're the smallest option that's truly useful for cooking. Many recipes need two burners, so a dual induction cooktop is affordable and practical if you don't want to get a range.
To narrow down the choices, we started by looking at different price ranges to set up some basic categories. These included the standard, premium, and budget ranges. While all of the "best" two burner induction cooktop choices are technically premium products, most people prefer guides with a better range of prices, so that's how we began narrowing things down.
Next, we looked at the different brands on our list to see which companies are the most trustworthy. Companies with long histories are usually more reliable than new businesses that could go out of business any day. Established companies also tend to have better distribution and customer support networks.
After finding the best brands, we looked at reviews from other users. We'll be honest, here: It's hard to test a bunch of products for the expected lifespan. That produces the best reviews, sure, but there's only so much we can test ourselves while still getting reviews to you and having them out fast enough to be helpful.
This is where overall sentiment from other buyers comes in. More reviews are always better for getting an accurate sense of which products and which don't. However, contrary to what some people think, this wasn't the last step in our evaluation process.
After finding the products that people liked most, we compared the features and settings of the cooktops still on the list. Features include things like the size of the burners, how long they take to heat, safety features, and the overall size of the unit.
Opinions are split on that last one, but we ultimately decided that bigger is better than smaller for these products. Pots and pans vary widely in size, so the larger a double induction cooktop is, the easier it is to use two big pans simultaneously.
Smaller cooktops are convenient, but if they're too small, you might not be able to use both burners at once. That defeats the purpose of getting a double cooktop, and after some discussion, we decided that this was a decisive factor for our evaluations.
Double Induction vs Regular Cooktop
Double induction cooktops are fundamentally similar to regular cooktops except for the obvious differences: They're bigger and they're more expensive. A double induction cooktop is essentially two units tied together, although they usually share a power connection instead of having separate plugs.
That said, larger units tend to be more durable than single burners. They're naturally heavier, which makes it harder to accidentally bump them around. Finally, double induction cooktops may have higher maximum power than regular single-burner cooktops. This makes them a better choice for cooking at particularly high temperatures.
More comparison: Induction Cooking vs Gas Cooking
Frequently Asked Questions
Here are some of the most common questions people have about double induction cooktops.
What Are the Price Ranges for a 2 Burner Induction Cooktop?
While prices vary by store, most 2 burner induction cooktops sell for somewhere between $100 and $200. You might find a unit outside this range if you look hard, but it's more likely to go outside the range on the high end than the low.

Within this range, most units actually sell for somewhere between $140 and $180. This means there isn't much difference between a 'budget' cooktop and a premium one Accordingly, it's better to look at the quality and features of a cooktop instead of evaluating it solely by price.
Are Induction Cooktops Good for First-Time Buyers?
Yes, but only if you have the right pans. Induction heating induces heat by using electromagnetic fields, but for this to work, you need to have sufficiently metal pans. Most companies suggest using the "magnet test" because any pan that a magnet sticks to should work with an induction cooktop.
Are Induction Cooktops Better than Electric Cooktops?
Generally, yes, as long as you have the correct pans to use induction at all. Broadly, induction cooktops are higher-end cooktops compared to electric units. There are a few reasons for this, but most of it comes down to efficiency.

Electric cooktops are generally slower, distribute heat unevenly, and have a lot of residual heat when you turn them off. Induction cooktops cook evenly and, in most cases, much faster than electric cooktops. They also waste less energy and have essentially no residual heat when you turn them off.
That said, induction cooktops tend to be more expensive than electric cooktops. This is a case where you're paying for quality.
How Large Are Double Induction Cooktops?
Most double induction cooktops are roughly 2 feet by 1.5 feet, and about four inches high. Length and width can vary by up to a few inches, but heights are pretty close to standard for all of these products. Inches matter when you're trying to manage multiple large pots, though, so bigger is better.
Are Double Induction Cooktops Easy to Clean?
Yes, but don't immerse them in water. Using soapy water and a sponge is usually enough to clean these. Here's why it's so easy.

Most induction cooktops use black crystal glass for the surface. While the exact ingredients vary by manufacturer, these are technically ceramics that offer excellent durability and resistance to heat.
As we discussed above, induction cooktops don't heat the cooktop directly when heating a pan. That's what you see with things like gas stoves or electric cooktops, but induction heating uses electromagnetism to heat the bottom of a pan directly. This means that the glass surface doesn't get particularly hot.

Since the surface itself isn't hot, it doesn't carbonize droplets of food waste that may splash onto it. Instead, most food just sits there, ready to be wiped off with a sponge and some soap.
You can clean a double induction cooktop essentially as soon as you turn it off. There's almost no residual heat once you take the pan off, so chances are you can even put your hand on the burner in seconds with no particular risk to yourself.

However, most double induction cooktops are not waterproof. Rather than putting them under running water, it's better to just wipe them down. Never submerge your unit because this could destroy it.
Conclusion
Finding the best double induction cooking system is more about figuring out what features you want, rather than anything else. Most products in this range are fundamentally similar, but you can find differences in power use, temperature settings, and safety features.
We like the AMZCHEF cooktop as the best overall option for most people, but the Duxtop is a great alternative if you're looking for a premium cooktop. The Noxton isn't quite as good for most people, but its high power and unusual orientation give it some niche appeal.
More Cooktop Guides: