Tomatoes are among the most versatile ingredients that spruce up a myriad of recipes. These nutritious fruits are good for your health, tasty, and the splash of red adds color and appeal to any dish.
However, most of us don't like cutting tomatoes, for a variety of reasons: the time it takes, the mess, the risk of cutting yourself, and let's face it: sometimes it's hard to get that perfect cut.
Purchasing the best tomato slicer will eliminate these issues and provide you with several benefits:
Clean, uniform tomato cuts
A Multifunctional tool that helps you prepare other foods
Less prep time while cooking
Less risk of cutting yourself
Convenience
Whether you're looking for a tomato slicer for your own home kitchen or one for your restaurant, there's one on this list that will simplify your cooking prep time. Check out our best tomato slicers and pick one that is right for you:
Best Tomato Slicer Reviews
1. MSC International Joie Tomato Slicer & Knife: Best Overall
Pros
Made with durable stainless steel and BPA-free plastic
Includes a knife
Compact and easy to store
Simple to use
Top-dishwasher rack safe
Cons
Thickness is fixed
Only comes in solid red
The MSC International Joie Tomato Slicer and Knife Kit allow you to create uniform slices of freshly cut tomatoes to use for your salads, sandwiches, omelets, antipasto, and other favorites. It's easy to use and comes with its own tomato knife! Check out the features:
Notable Features:
Dimensions: 8 x 6 x 3.4 inches
Weight: 5.8 ounces
Includes tomato slicer and knife
Creates uniform tomato slices
Made with 18/8 stainless steel and ABS plastic
BPA-free/FDA approved
Compact for easy storage
Top-rack dishwasher safe
Why is the Jolie Tomato Slicer and Knife the best? It's built with high-quality materials: stainless steel and BPA-free plastic, that ensure safety and durability. This slicer provides clean, uniform cuts, ensuring the perfect tomato slices for any recipe.
It's so simple to use! All you do is squeeze the clip open, insert a tomato, and slice between the slots. The spring-loaded design holds the tomato in place. It's also easy to clean—just place it on your dishwasher's top rack, and you're good to go.
We also love versatility, and the Jolie tomato slicer also works on onions, potatoes, boiled eggs, or any soft food. While it comes with a tomato knife, you can certainly use your trusty tomato slicing knife from your kitchen if you like.
The only downsides we saw with the Jolie tomato slicer is that you cannot vary the thickness of the slices and that the product itself solid red. Why is this a downside? It may not be an issue for everyone, but some customers stated that it was hard to distinguish between the red clamp and the red tomatoes when they were slicing. Currently, the company only sells this product in the color red, but maybe they will offer other colors in the future.
---
2. New Star Foodservice 39696: Best Commercial Tomato Slicer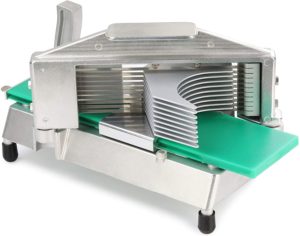 Pros
Built with durable stainless steel and aluminium
Built-in cutting board adds convenience
Comes with blade replacement
Easy to use
Cons
Not dishwasher safe
Price tag
If you need a commercial tomato slicer that cuts tomatoes in bulk, the New Star Foodservice (model 39696) is exactly what you need. The professional team of engineers and designers has created an innovative slicer that cuts the perfect size of tomatoes every single time.
Notable Features:
Dimensions: 14 x 8 x 8 inches
Weight: 7.8 lbs.
Aluminum frame
Stainless steel blades
Creates uniform tomato slices (1/4 inch)
Vertical and horizontal handles
Built-in cutting board
Comes with an additional bonus blade
Working in the food industry means tons of food prep every single day, and sometimes slicing tomatoes by hand for a large number of people can get mundane, but you also have to think about safety and food costs. Inconsistent cutting can cost you money, but with the New Star Foodservice tomato slicer, you get uniform ¼ inch tomato slices ready to serve.
The New Star tomato is the best because it is made with high-grade stainless steel blades and a durable aluminum frame. The vertical and horizontal handles allow a firm grip and cutting leverage that makes the slicing of tomatoes and other fruits and vegetables much easier.
The built-in cutting board adds convenience to your food preparation, and the strong clamp includes a stable base. Because of the New Star's size and materials, it should be hand washed only, which may be a downside. The price tag is obviously higher, but that's to be expected because this tomato slicer is built to feed the masses! Overall, the New Star is easy to use, and it will certainly make your work in food service much simpler!
---
3. Rösle Stainless Steel 10 Blade: Best for Versatility
Pros
Durable stainless steel construction
Slices vegetables, fruits and cheese
Dishwasher safe
Lifetime warranty
Cons
May not slice softer fruits and vegetables
Since 1888, Rösle has created and produced the finest, German-engineered kitchenware that lasts a lifetime! The Stainless Steel 10-Blade Serrated Vegetable, Fruit, and Cheese Slicer will evenly slice not just your fresh tomatoes, but a host of other foods! If you love homemade Caprese, this slicer is perfect for you.
Notable Features:
Dimensions: 6.2 x 3.9 x 2 inches
Weight: 7.8 ounces
Made for slicing vegetables, fruit, and cheese ¼ inch thick
Made with 18/10 stainless steel base
Ergonomic lateral handles ensure a safe grip
Easy to use
Dishwasher safe
Lifetime warranty
The Rösle slicer is the best because of its high-quality design, extreme durability, and its versatility. If you need a tool that does much more than slice tomatoes, this one is for you. The ten parallel serrated blades allow quick and neat slicing of tomatoes, vegetables, fruit, and cheese.
The 18/10 stainless steel construction is corrosion, heat, and chemical resistant, making it a safe option. The two lateral handles allow a safe, firm grip. The base catches the juice so that you won't have a mess. Some customers said that this slicer "smushed" their tomatoes, but they also said they were using softer tomatoes. Use firm tomatoes for the best results.
This slicer is easy to use and easy to clean (it's dishwasher safe!) The blades are very sharp, so make sure they are covered when storing. Rösle stands proudly by their products so much that they offer a lifetime warranty! I think that a tomato, mozzarella, and basil sandwich sounds good about now!
---
4. Best Utensils Multipurpose Slicer: User-Friendly Tomato Slicer
Pros
Durable, high-quality stainless steel
Easy to use
Multi-purpose
One year warranty
Cons
Not suitable for larger fruits and vegetables
Fruits and vegetables must be round
Another versatile tomato cutter from Germany, the Best Utensils Multipurpose Tomato Slicer, is the perfect tool for your kitchen. It not only slices fruits and vegetables like tomatoes, onions, and lemons, it doubles as a set of food tongs!
Notable Features:
Dimensions: 9 x 1.5 x 3.5 inches
Weight: 5 ounces
Made for slicing tomatoes and other fruits and vegetables 1/8 inch thick
Built from 100% food-grade 18/8 stainless steel
Doubles as a food tong
Easy to use
Dishwasher safe
One year guarantee (non-commercial use)
Great price
Best Utensils Multipurpose Tomato Slicer made our list because of its sheer simplicity. You simply put the tomato in the slicer and hold it with one hand and use a knife to slice it with the other hand. This slicer is made with 100% food-grade stainless steel, and it is used by chefs of all kinds (even chef wannabes).
Another cool perk is that you can use this tomato slicer as a food tong, adding to the versatility factor. Unlike our top choice, the MSC International Joie Tomato Slicer, the Best Utensils does not include a knife, but most people have their own tried and true kitchen knives that they love anyways.
Do note that the Best Utensils slicer is made for smaller fruits and veggies like tomatoes, lemons, and kiwis since you only have a certain amount of space. Also, your produce must be round or sphere shapes for the best results. This means cucumbers won't work so well with this slicer. With a great price and a one-year guarantee, Best Utensils is among the best.
---
Buyer's Checklist of Important Features To Consider
The best tomato cutter is the one that fits your cooking needs, and of course, preferences: Here are some of the most important features to consider when purchasing a tomato slicer:
Size
Tomato slicers range in size, and some are more compact for easy storage. If you do not have the space, opt for a smaller one that you can store in a kitchen cabinet or drawer.
Safe, Durable Materials
While tomato slicers won't break the bank, you don't want to need to buy a new one every few months, which is why you should choose one that will last. The best ones are made from stainless steel, which is a durable material that will withstand years of use. If you're looking at a plastic one, make sure it is BPA-free.
Clean Cuts
Most tomato slicers cut tomatoes or other foods approximately ¼ inch. Some are advertised as adjustable, meaning you can control the cut's width, while others provide uniform cuts. One of the perks of a tomato slicer is that it ensures clean cuts, so you don't have a mess when you're finished.
Ease of Use
Tomato cutters range from complex to simple, so if various parts and functions don't scare you away, then choose one with the bells and whistles. However, most people prefer simple tomato slicers. Whichever one you're looking to buy, make sure you review exactly how it works and read customer reviews to access the ease of use.
Multipurpose
If you like the idea of using a tomato slicer for cutting other food, look for one with a multipurpose feature. Several in our reviews work well to slice other fruits, vegetables, and cheeses. Our number four recommendations, the Best Utensils Multipurpose Tomato Slicer, doubles as a food tong!
Easy to Clean
If you can stick a tomato slicer in the dishwasher, perfect! Washing them by hand can be a bit more challenging because you have to be careful not your cut yourself while washing. All of the tomato slicers we reviewed today, except the New Star Foodservice, are dishwasher safe.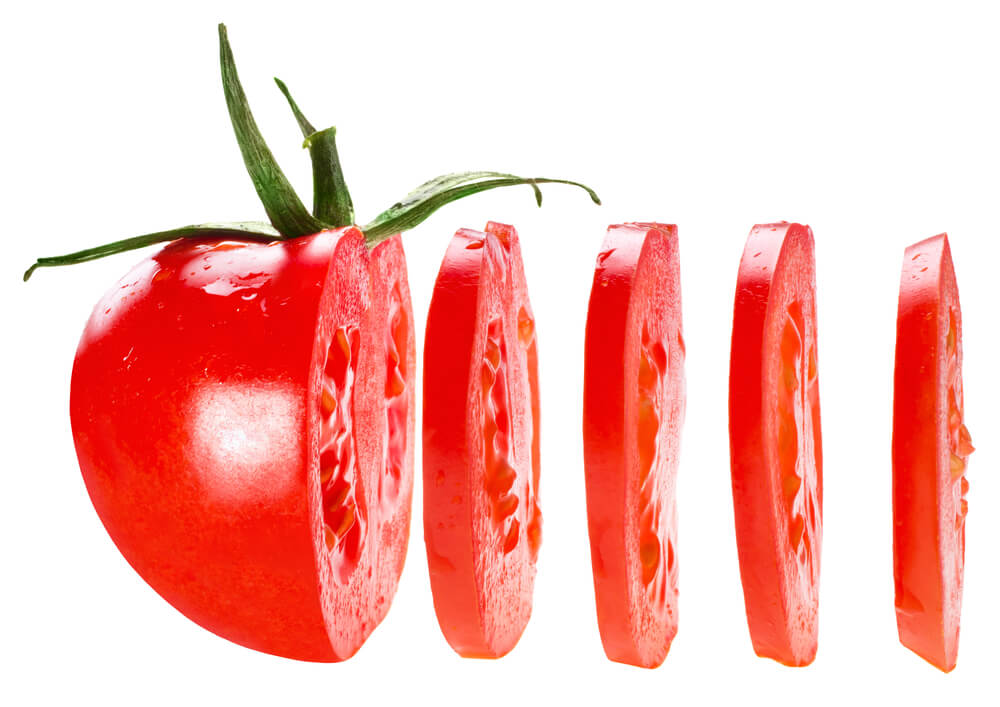 What are the Best Tomatoes for Slicing?
The best tomatoes are the big, firm ones like Brandywine, Beefsteak, Mortgage Lifter, and Black Krim, according to this professional gardener. You're not going to have much luck slicing mushy tomatoes, and who wants mushy tomatoes anyways?
What are the Best Knives for Slicing Tomatoes?
Small, serrated knives are best! They can easily slice through a tomato's skin and provide a clean cut. Bread knives or steak knives work well. Make sure whichever knife you choose is sharpened regularly. Dull knives equal tomato disasters.
What is the Best Way to Slice a Tomato?
First, prep the tomato by rinsing it and patting it dry. Place the tomato, stem-side up on a cutting board and remove the green stem or leaves.
In order to avoid tomato pulp falling out and making a mess, you should cut against the core by placing the tomato on its side before slicing. Tomatoes grow down from the stem and create cavities that surround the core. The core holds the cavities intact, keeping the seeds and juicy pulp together. If you cut the tomato parallel to the core, it will burst open, and you will have a sloppy mess.
Bottom Line?
Some days you may want fresh tomatoes on your sandwich; other days, you may be cooking for a crowd and need tomatoes sliced in bulk for your recipe. Maybe you are a professional chef and slice tomatoes every day. Whatever your needs are, the best tomato slicer will make your life easier in the kitchen, and you can focus on other things—like enjoying your freshly cut tomatoes!
More on Tomatoes: