In the words of Hawaiians, coconut water is "dew from the heavens." The juice is actually the watery content inside mature coconuts, which are typically 5–7 months old.
This miraculous concoction, which has a somewhat sweet and nutty flavor, can be consumed straight up, added to drinks, or used in baking.
In case you forgot to include coconut water on your grocery list, don't worry — your recipe will still turn out well.
You can replace your coconut water with watermelon water, maple water, birch water, coconut milk, and aloe vera juice. Let's learn more about each one.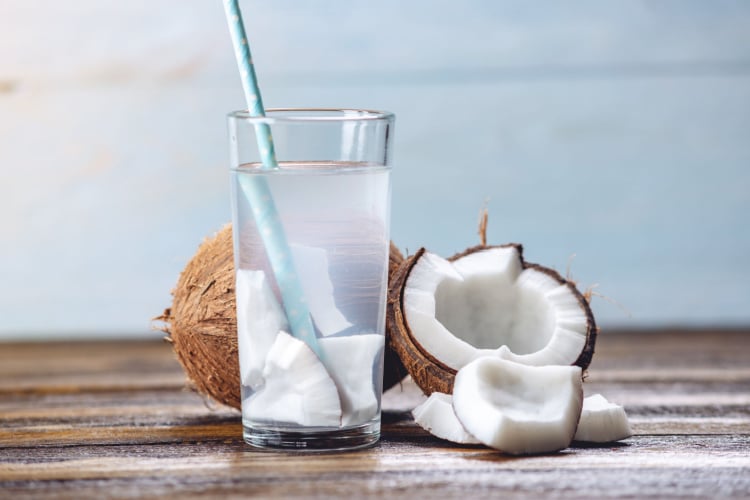 Coconut Water Substitutes: Nutritional Value & Cooking Ratio
| | | | | | | |
| --- | --- | --- | --- | --- | --- | --- |
| 100g of | Calories | Fat | Carb | Protein | Fiber | Ratio |
| Watermelon Water | 34 | 0g | 8.5g | 0g | 0g | 1:1 |
| Maple Water | 20 | 0g | 5g | 0g | 0.3g | 1:1 |
| Birch Water | 15 | 0g | 3.6g | 0g | 0g | 1:1 |
| Coconut Milk | 31 | 2.1g | 2.9g | 0.2g | 0g | 1:1 |
| Aloe Vera Juice | 15 | 0g | 3.8g | 0g | 0g | 1:1 |
What Does Coconut Water Taste Like?
The rich flavor of coconut flesh and the sweet vanilla flavor of baked goods that use coconut flavoring are not present in coconut water.
Instead, coconut water has a unique vegetal flavor that is somewhat akin to aloe. Although not super sweet, it has a very light, almost unnoticeable coconut aftertaste with a hint of earthy aromas.
Coconut water does not have the same appearance as coconut milk. It's neither creamy white like coconut milk nor fully clear like water — it's somewhere in the middle.
Because packaged coconut water from supermarkets uses chemicals, preservatives, and flavors to ensure shelf stability, the sweetness will differ between brands. Nevertheless, the nutty taste persists in all of them.
Coconut Water Nutritional Value
100g of coconut water contains:
19 calories
0.2g fat
3.71g carbs
1.1g fiber
0.72g protein
Coconut Water Substitutes
Watermelon Water
If you can't find coconut water, grab a bottle of watermelon water for a tasty and healthy alternative.
Watermelon water is a great substitute for coconut water in recipes, but you can also drink it straight up. However, remember that watermelon water has a pink hue, and it could change the color of your beverage if you're mixing it in drinks. On the other hand, if you use it as an ingredient in recipes, it won't.
It's also worth noting that watermelon water could be sweeter than coconut water, so it might be a good idea to cut back on the additional sugar in your recipe.
Maple Water
The taste and accessibility of maple water make it one of the greatest alternatives to coconut water. They are so similar that they're commonly found next to each other in supermarkets.
The source of maple water is the maple tree, as the name indicates. It tastes sweeter than coconut water but has the same hits of nuttiness.
While maple water can be drunk straight up, it tastes best in sweet soups, smoothies, and drinks. Its flavor is mild and won't overwhelm other ingredients in your dishes.
Birch Water
Birch water is yet another natural alternative, and it's collected from the Betula genus of trees.
Birch water has a very slight nectary sweetness. Although it may not have the same strong flavor as coconut water, it tastes good when used in recipes that call for coconut water.
Even by itself, birch water is quite tasty and, if drunk regularly, provides a number of health benefits. You can serve birch water cool, squeeze in some lemon, and garnish it with a mint leaf.
Coconut Milk
The closest possible substitute to coconut water is coconut milk. Although, it does have a stronger flavor, so keep that in mind when altering your recipes.
Moreover, dishes or baked goods made with coconut milk will also have a thicker consistency.
If the thicker consistency doesn't work in your recipes, then it's best to dilute it. Two parts water and one part coconut milk should be enough to reach the same consistency as coconut water.
Plus, the added water will help tone down the flavor to a more reasonable level.
Aloe Vera Juice
Aloe vera water (or juice) is another alternative to coconut water. It tastes citrusy and leaves a little bitter aftertaste.
Natural aloe vera juice is fat-free and packed with healthful vitamins. So even though aloe vera water is not similar in taste, the data shows that it's more nutrient-dense than coconut water.
To make up for the harsh and lemony aftertaste, make sure to combine aloe vera juice with sweeter liquids. If you don't mind its taste, you can simply drink it pure. Some people also like to include it in dips, salads, soups, and desserts.
Popular Recipes That Call for Coconut Water
Coconut water is an excellent complement to culinary pleasures. The nutty and gently sweet flavor enhances the taste of many dishes, so if you're looking for some ideas, we have three recipes that you'll love.
Coconut Chia Pudding
Coconut chia pudding is the ideal marriage of hearty and delicious. You can make it very quickly and only with a few simple ingredients — chia seeds, honey or maple syrup, vanilla essence, coconut water, blueberries, and raspberries.
If you ask us, it's the best snack to have following a filling lunch or while on the move.
Coconut Coffee
While we all like our standard hot or cold brew coffees, there's no harm in experimenting with other ingredients. One such ingredient is coconut water.
Combining coconut water with coffee results in a somewhat sweet and nutty caffeine concoction. If you drink your coffee with milk and like the taste of coconuts, we suggest including coconut milk as well.
Coconut Chicken Soup
Coconut water might not be your first choice when making chicken soup, but it makes sense — it's light, refreshing, and has a pinch of natural sweetness.
Coconut water is known for its nourishing, anti-aging, skin-improving, and immune-boosting properties.
It's the perfect choice for a delicious and comforting meal while sick or on chilly days. You can serve it alongside fried rice or tortillas, and it takes around one hour to prepare.
Conclusion
That concludes our discussion of the finest coconut water replacements.
Watermelon and maple water add bonus sweetness, birch is somewhat nectary, while aloe vera is mildly bitter and citrusy. Coconut milk is the creamier cousin to coconut water, but when diluted, it makes a fine alternative.
When choosing, our advice to you is to follow your culinary instincts. Take notice of the other ingredients in your recipe and make sure everything matches and blends finely together!