What do you do if your recipe calls for dill weed, but you don't have any? You might panic. You might run over to the grocery store and scour the shelves. Or you might decide to simply substitute the seasoning for one close at hand.
What is Dill Weed?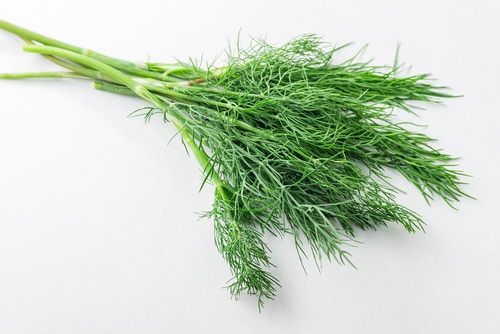 Dill is a long-stemmed plant with clusters of little flowers and spiny, almost needle-like leaves.
As an annual herb, dill weed needs to be replanted every year. It comes from the celery family Apiaceae and is a culinary staple in many Eurasian countries for flavoring food. Both the leaves and the seeds can be used as an herb or spice.
Fresh dill weed leaves provide aromatic flavoring to dishes of all kinds. Dill can also be dried, but drying the leaves tends to reduce the amount of aroma and flavor. Freeze-drying dill works much better and can keep flavor for several months.
While no other herb can match dill's particular aroma and flavor, a dill substitute might be necessary if the herb is unattainable.
Substitutes for dill are used to replace the contributions of both dill seed and dill weed leaves, depending on what the recipe calls for.
Top 5 Dill Substitutes
It is easy to replace dill weed with any soft-leafed herb, but some provide better substitutions than others. Every other herb will have a different flavor and taste than dill, but they will still add something special to your dish.
Often when dill is added too early in cooking, the heat will cause it to lose its flavor. Many of its contemporaries remain full of aroma and flavor no matter how they're cooked, so it's important to remember any substitution will not only taste different to dill, but it will react differently as well.
The best dill substitutes are Tarragon leaves, Parsley and Basil. Chervil and Rosemary are also good dill alternatives.
1. Tarragon Leaves
This herb is the most common dill substitute for cooking and meal preparation. Its aroma can be overpowering, but like dill weed, tarragon will lose its flavor's potency once heated.
Tarragon has historically been a staple of French cuisine and only recently became more popular in other culinary areas. Its flavor is similar to licorice but is not as powerful. Compared to other licorice-flavored herbs, like fennel, tarragon has a milder countenance and hints of different flavors that set it apart taste-wise. Overall, it is a very delicate herb that adds subtle enhancements to a dish.
Fresh tarragon is often a staple in sauces, particularly the French Bearnaise sauce. Dishes like chicken, eggs, or fish usually incorporate tarragon herbs. Dried tarragon can also be used as a spice, though it doesn't have quite the same level of flavor as a fresh sprig.
Tarragon is part of a French blend of spices that include parsley, chervil, and chives. This blend is a frequent seasoning in French cuisine and more famous French dishes.
2. Parsley
Parsley is quite similar looking to dill except for the leaves. Dill leaves are slender and spiny, whereas parsley leaves are leafy and soft. Parsley makes for an easy dillweed replacement, but it provides an entirely different taste and texture to your dish.
Often used as a garnish, parsley is a common substitute for salt. It gives a fresh, almost peppery taste to soups or entrees. It can complement any flavor profile, which makes it ideal for a wide range of cuisines.
When paired with other herbs, parsley enhances the flavor of both the main dish and the other seasonings. Sometimes parsley is paired with dill for a distinct and tasty flavor, which might be why it holds the place as one of the most popular dill weed replacements.
Fresh parsley is either the flat-leaf variety or the curly-leaf. Some people believe flat-leaf parsley has a more pungent taste, so it's used directly in cooking more so than curly-leaf. Curly leaf parsley is typically used for garnishes as it adds more texture.
Dried parsley is also sometimes used in cooking, as is root parsley. Root parsley is grown as a root vegetable and has much thicker roots used in soups and stews. Similar to a parsnip, eating the root parsley raw is common, although it certainly does not taste like a parsnip, carrot, or other root vegetables.
3. Basil
One of the more sweet-flavored herbs on this list, basil is a member of the mint family and often used in Italian and Vietnamese cooking. The flavor has subtle differences depending on which variation you buy. For instance, Thai basil is savory and has hints of licorice, making it a suitable substitute for dillweed.
Similar to both dill and tarragon, fresh basil will lose its flavor if added into a hot concoction of ingredients. Adding fresh basil at the very end of cooking and dried basil at the beginning are the best ways to utilize both kinds of basil.
Basil is one of the key ingredients in making pesto. It is often paired with tomatoes to help tone down the acidity and provide an overall sweeter taste. Basil can also be used as a garnish on dishes such as pizza.
Though cooking usually uses sweet basil, other variations provide different cuisine results. Thai basil, lemon basil, spicy bush basil, and cinnamon basil all have individual aromas and flavors. Most of the variations listed have names that point to the kind of flavor they deliver.
However, over sixty variations of basil can offer a unique taste and flavor profile to your cooking.
4. Chervil
A member of the parsley family, chervil is often used in French cuisine. In comparison to flat-leaf parsley, chervil is paler with frillier leaves. It has a milder taste that is similar to both licorice and anise. Some people describe the flavor as a cross between tarragon and parsley. The three herbs, chervil, tarragon, parsley, are often used as substitutes for each other.
Salads and soups most often feature chervil because it is less likely the flavor will be overpowered. It is also considered a delicious seasoning for eggs, chicken, and fish.
One of its more famous uses is as a main ingredient in the French blend "fines herbs," which includes tarragon, parsley, and chives. It is also often used in garnishes, rubs, and sauces.
Light sauces and herb butter often use chervil because its flavor won't become overpowered by the other ingredients. Using either fresh or dried chervil as a rub will provide a spring flavor for potatoes, fish, or chicken.
Chervil is less common than other herbs or spices, so it's sometimes difficult to get a hold of. Known as a spring herb, once it flowers, it becomes very bitter. It's best to use before the flavor changes.
5. Rosemary
Rosemary is a common seasoning that has existed in cuisine for hundreds of years. Unlike the other herbs on this list, rosemary is a bush or shrub with a similar appearance to evergreen trees. It provides relief as a medicinal herb for people with memory, digestion, and circulation issues.
This herb has a very distinct taste and aroma, much different from other seasoning herbs. Rosemary is bitter and nothing like dill weed. As a substitute for dill, it does not provide the same flavor and will certainly change any dish you put it in.
However, that doesn't mean rosemary is unsuitable for the same dishes that feature dill weed. Though it won't provide a similar taste or texture, rosemary's addition will uniquely season your food. Whether or not its contribution would improve a dish is up to personal preference, but it provides a fun disruption from other, softer spices.
Rosemary and garlic butter is a popular concoction used on steaks or potatoes. This combination helps to compliment the dish without overpowering the flavor of the butter.
Rosemary is also commonly used with meats such as poultry, lamb, pork, or game. Fish and grains also benefit from rosemary seasoning, as do a variety of vegetables like mushrooms, potatoes, onions, or spinach.
Conclusion
Finding the appropriate dill substitute can be tricky, as no other herb can compare to the exact flavor. However, when you need a different seasoning to take dill's place, there are plenty to choose from. Tarragon, parsley, basil, chervil, and rosemary all have great qualities that make them exciting and tasty seasonings for your food.
For a closer replication to dill that still allows milder flavors, you can use tarragon, chervil, or parsley as substitutions. For a soft yet different taste, basil can add some sweetness to your dish, depending on the variation you choose. Or you can add rosemary for a completely different experience that might change the entire taste and texture of your meal.
No matter what substitute you choose, it won't be the same. But each of these five herbs provides unique flavors that compliment your cuisine in specific ways. If you don't have any dillweed for your recipe, you can replace it with any aromatic herb. Though it won't have the same taste or effect, it will spice up your cooking in more ways than one.