If you're a health-conscious cook like we are, you've probably heard of psyllium husk powder. In case you haven't, psyllium husk is a fine powder made from the crushed seeds of Plantago flowering plants.
We love it because it has a ton of fiber and treats various digestive issues. We also appreciate its binding and thickening abilities and the fact it's gluten-free — perfect for sauces and vegan baked dishes!
Psyllium, however, can be hard to find, which makes trying several recipes rather frustrating!
Today, we'll alleviate those frustrations with no less than eight fitting psyllium husk substitutes: chia seeds, flaxseed, cornstarch, guaran, and more. Their properties and benefits are comparable to psyllium husk, and some are nearly identical.
But before we proceed, let's brush up on what psyllium husk actually tastes like, as well as the nutritional values of its substitutes.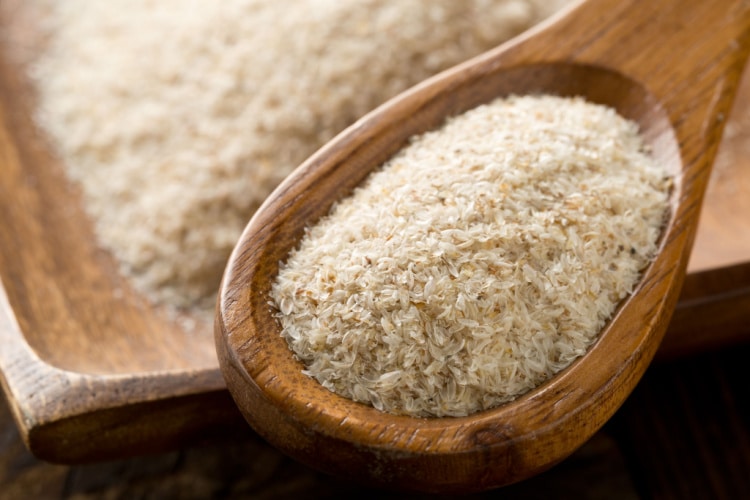 Psyllium Husk Substitutes: Nutritional Value & Cooking Ratio
| | | | | | | |
| --- | --- | --- | --- | --- | --- | --- |
| 1 oz of: | Calorie | Fat | Carb | Protein | Fiber | Ratio |
| Chia Seeds | 139 | 8.72g | 12.43g | 4.43g | 10.7g | 1:1 |
| Flaxseed | 151 | 11.95g | 8.19g | 5.19g | 7.7g | 1:1 |
| Cornstarch | 108 | 0.01g | 25.88g | 0.07g | 0.3g | 1:1 |
| Tapioca Starch | 101 | 0g | 25.3g | 0g | 0.3g | 1:1 |
| Arrowroot Powder | 101 | 0.03g | 24.99g | 0.09g | 1g | 1:1 |
| Guaran | 40 | 0g | 24g | 0g | 24g | 1:1 |
| Potato Starch | 100 | 0g | 23.3g | 1.9g | 1g | 1:1 |
| Xanthan Gum | 98.3 | 0g | 24.6g | 0g | 24.7g | 3:1 |
What Does Psyllium Husk Taste Like?
Psyllium husk actually has no taste at all. It's a soluble fiber that functions as a mild laxative with bulk-forming properties. It's obtained from the seeds of the Plantago Ovata plant, which is mostly cultivated in India.
Psyllium is sold in the form of granules, powder, capsules, or in husk form, and it's a staple ingredient in baked products, soups, stews, and morning cereals.
The powder works well as a vegan substitute for eggs in recipes. It has the "binding power" of an egg, thickens soups, stews, and sauces, preserves moisture, and offers nutritional fiber.
As we mentioned, psyllium husk has a number of health benefits — from helping with diarrhea, weight loss, and constipation to regulating blood pressure, cholesterol, and blood sugar levels.
Because of its advantages, health enthusiasts have started incorporating psyllium husk powder into their everyday meals, especially in gluten-free, vegan baked goods.
Nevertheless, this isn't the only gluten-free option available on the market. If you want to lead a healthy, fiber-rich, and gluten-free lifestyle without altering the taste of your favorite dishes, you must have other options on hand. So without any further ado, let's see what they are, shall we?
Psyllium Husk Nutritional Value
1 oz of psyllium husk contains:
57 calories
0.14g fat
21.91g carbs
1.3g protein
21.9g fiber
8 Psyllium Husk Substitutes
Chia Seeds
The Mayan word for chia is "strength," and the strength of this alternative lies in its super high levels of soluble fiber.
Chia seeds have a variety of health advantages, including the ability to decrease cholesterol and help with weight loss. The seeds are also gluten-free.
Chia seeds can absorb ten times more water than the water-soluble psyllium husk, making them incredibly mushy after being soaked.
You can add chia seeds whole to salads or fruit smoothies or grind them and use them in a 1:1 ratio to thicken soups, sauces, and stews or make baked goods like bread, muffins, and cakes.
Flaxseed
There is no question that flaxseed is an effective replacement for psyllium husk — it's vegan and devoid of gluten, exactly like psyllium husk.
Flax seeds are also known as linseeds. They are golden-brownish in color and have a nutty taste.
They're rich in dietary fiber, so they aid weight loss, as they make you feel full even if you don't eat plenty.
In recipes, flaxseed may be used in place of psyllium husk in a 1:1 ratio. We recommend soaking them in warm water for 10 minutes before adding them to baked goods. You could also grind them in a coffee grinder, in which case you won't need to soak them!
Once they've been ground up, you may also add flax seeds to meatballs, tomato soup, and spaghetti sauces or sprinkle them on top of oatmeal.
Cornstarch
Don't you think cornstarch should be a staple in every pantry? It's affordable, widely available, and a suitable alternative for psyllium husk, among other things.
Cornstarch has the ability to thicken up at high heat, which makes it the perfect alternative for psyllium husk in thickening sauces, stews like beef stew, and soups. Cornstarch is also great when you're going for a crispy coating when cooking chicken or meatballs as well.
When added to baked goods, cornstarch helps create a crumbly and delicate texture — perfect for cookie recipes! Additionally, you can use it to add fluff to your omelet and crispiness to your waffles.
However, the one drawback is that it doesn't have as many health benefits as psyllium, so if you're looking for a substitute that's as nutritional, we advise skipping cornstarch. If not, then feel free to substitute it for psyllium husk in a 1:1 ratio.
Tapioca Starch
Another beneficial substitute for psyllium husk is tapioca starch, also known as tapioca flour[1]  or tapioca powder, originating from cassava root.
Tapioca doesn't contain gluten, so you can use it in your gluten-free baked goods and dishes, like tapioca muffins, sweet rolls, and bread.
While baked goods will taste deliciously chewy with the addition of this alternative, soups, sauces, and stews will also benefit from its thickening properties.
What's more, replacing it is a pretty straightforward process — just switch the two items in a 1:1 ratio.
Arrowroot Powder
Can't eat substitutes made with corn-like cornstarch? Then consider using arrowroot as a psyllium husk substitute.
Arrowroot is inherently gluten-free, just like psyllium. It's well-known in the baking world for its fine powdered texture, and it's ideal for light and fluffy pastries. Feel free to use it to make croissants!
Because it has no flavor, arrowroot is also used to thicken sauces, puddings, milkshakes, soups, and stews. You can swap it with psyllium in a 1:1 ratio.
When it comes to arrowroot's nutritional properties, it's not as nutrient-rich as psyllium husk, but it does contain generous amounts of protein and fiber. If you use this powder on a regular basis, it will support good digestion and a healthy metabolism.
Guaran
Guaran, often called guar gum, is derived from the guar bean, and similarly to psyllium, it's used to bind ingredients and thicken recipes.
It's gluten-free, high in dietary fiber, and low in calories. As a result, guar gum helps decrease blood pressure, aid weight loss, prevent cardiovascular disease, and control blood sugar levels.
When swapping psyllium for guaran, you can use the same amount. For instance, if you need one tablespoon of psyllium husk to thicken a soup or bake cookies, then one tablespoon of guar gum should be enough to achieve a great end result.
Potato Starch
Potato starch is made from potatoes, and it's a good psyllium husk powder substitute for people on a gluten-free diet. Similar to psyllium husk, it's high in fiber and great for weight loss.
It has no flavor, so feel free to use it in all sorts of baking and culinary recipes. It won't affect the flavor. Additionally, you can use it to thicken soups, sauces, or to cook something on the sweeter side, like pie fillings, jellies, and jams.
The only downside of using potato starch instead of psyllium husk is that it may raise your blood sugar levels if consumed in large quantities. However, it should not pose any issues if you use it as an alternative to bake or thicken, because the ratio will be 1:1.
Xanthan Gum
Our final option is one of the greatest alternatives to psyllium husk since it not only has a comparable texture but it's also much less expensive.
Xanthan gum transforms soups, stews, puddings, and jellies into creamy delights and gives baked goods the flexibility they may be lacking. On top of that, it retains moisture, keeping baked goods chewy and moist.
Although it is not as nutritional as psyllium husk, it can keep you sated for a long period, minimizing caloric intake and helping you maintain healthy body weight.
However, the amount of xanthan gum required to substitute psyllium should be calculated carefully, because it's best not to overdo it. We recommend using xanthan gum in only ⅓ of the psyllium amount your recipe calls for.
Popular Recipes That Call For Psyllium Husk
If you're set on psyllium husk and have managed to procure it, here are some great recipes you might not have thought of. All of the suggested options are low carb!
Fluffy Pancakes
Nothing can get your day off to a better start than a plate of energetic pancakes. Our recipe for fluffy pancakes is entirely devoid of grains, sugar, and gluten, plus, they are super high in protein and fiber!
The pancakes are also quite easy to make. Just mix everything in a large bowl and cook in a hot pan. Enjoy the pancakes topped with your preferred ingredients, such as fresh berries, simple syrup, or honey.
Mini Donuts
These little doughnuts are easy to make and even easier to enjoy. The donuts have a golden texture, are pillow-soft and fluffy within, and are wonderfully tasty.
You won't need any specialized baking tools or donut molds to make them. The dough comes together quickly and is easy to work with. We consider this to be one of the best low-carb, gluten-free, and keto-friendly dessert recipes, so feel free to give it a try!
French Baguettes
Have you ever tried a French baguette? Perhaps now is the ideal moment to do so! Our recipe for a low-carb French baguette is the ideal way to enjoy this traditional pastry.
It has a fluffy, light texture, and it's brimming with protein and good fats. Serve it with butter or cream cheese, and you'll have a delicious meal next to a lovely cup of morning coffee or afternoon tea!
Pumpkin Bread
No autumn is complete without pumpkin-flavored delights, but most pumpkin goods' high carb content doesn't appeal to us, health-conscious cooks.
If you are a fan of pumpkin flavor but want to stay healthy, then you'll adore this recipe for pumpkin bread. It's simple and packed with the autumnal flavors and ingredients we love.
Conclusion
There you have it, folks! The eight finest psyllium husk substitutes for you to try. Now the question is: which one to choose?
Simple! If you're looking for a substitute that is practically identical to psyllium husk, flax and chia seeds are unquestionably your best option. If you're searching for something similar that's easy to find, then go for cornstarch or xanthan gum.
Keep in mind that some of our options may not have the identical flavor and texture you are looking for in psyllium husk, but they're nonetheless the closest substitutes you can find. We'd encourage you to get creative and experiment! That's the only way to find the alternatives that fit your diet and recipe requirements best.
---
Link to tapioca flour substitutes when live.