We all enjoy a good lasagna — it's an Italian dish with layers of cheesy delight, meat sauce, and eggs, which hold the cheese and sauce together.
However, if you are short on eggs or have an egg allergy, you'll be glad to know that eggs aren't necessarily required to make decent lasagna. They aren't even a part of the traditional lasagna recipe!
You can use other binders that will make your lasagnas taste even better, such as chia seeds, flax seeds, bechamel sauce, plain yogurt, heavy cream, and mashed potatoes.
Let's see how you can utilize these egg substitutes to make the best lasagna.
Egg Substitutes in Lasagna: Nutritional Value & Cooking Ratio
| | | | | | | | |
| --- | --- | --- | --- | --- | --- | --- | --- |
| Substitute | Quantity | Calories | Fat | Carb | Protein | Fiber | Ratio |
| Chia seeds | 1 tbsp | 58 | 3.7g | 5.1g | 2g | 4.1g | 1:1 |
| Flax seeds | 1 tbsp | 46 | 3.6g | 2.5g | 1.6g | 2.4g | 1:1 |
| Bechamel sauce | ½ cup | 159 | 9.83g | 13.15g | 4.66g | 0.3g | 2:1 |
| Plain yogurt | 1 cup | 286 | 7g | 32g | 24g | 0g | 1:1 |
| Heavy cream | ½ cup | 1618 | 172g | 13g | 14g | 0g | 2:1 |
| Mashed potatoes | 4 cups | 950 | 36g | 142g | 16.4g | 12.6g | 1:4 |
What Is Lasagna?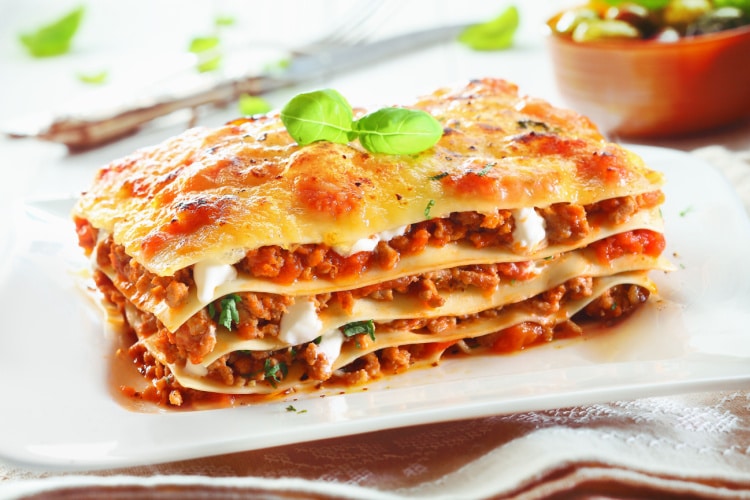 Lasagna is one of the most well-known Italian pasta dishes. The pasta is rectangular, sometimes ribbon-shaped, and made with a filling that varies in different traditional recipes.
A typical lasagna recipe calls for Bolognese sauce, cheese, eggs, and/or bechamel sauce. Traditional versions, however, do not use eggs or bechamel sauce.
For example, the Neapolitan recipe includes tomato sauce, meatballs, mozzarella, and ricotta cheese. In Venice, people use red radicchio sauce, whereas in Liguria, pesto sauce. So, why do we include eggs in lasagna?
What's the Purpose of Eggs in Lasagna?
There are two popular uses for eggs in lasagna: cooked and chopped as part of the filling or, as we mentioned, combined with milk or water to bind everything together.
When used as a binder, eggs soften the lasagna and unite the meat sauce and cheese. Eggs ensure that the tastes and textures in the lasagna blend together, providing creaminess and wonderful consistency throughout.
For the filling, you may omit the eggs completely without worrying about a replacement. Here, we'll focus exclusively on egg substitutes when they're used as a binder.
Nutritional Value of Lasagna
One serving size (around 1.5 cups) of lasagna consists of:
602 calories
32g fat
35g carbs
3.9g fiber
44g protein
Egg Substitutes in Lasagna
Chia seeds & water
Flax seeds & water
Bechamel sauce
Plain yogurt
Heavy cream
Mashed potatoes
Chia Seeds & Water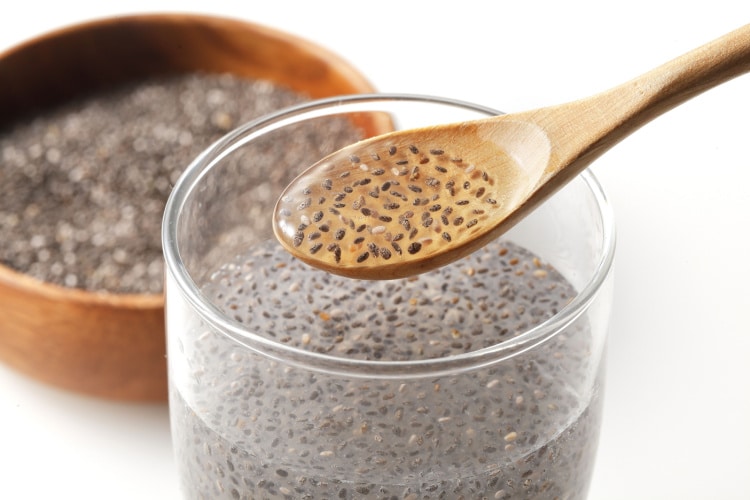 Are you vegan and in desperate need of some creamy, egg-free lasagna? Well, chia seeds are one of the best vegan binders in a classic lasagna recipe.
Since chia seeds have very little to no flavor, they'll hardly alter the taste of the lasagna dish, which is great because we don't want a substitute that will overpower the other ingredients.
In terms of ratio, you need to combine 1 tbsp chia seeds with 3 tbsp water instead of one egg. You can set it aside for a few minutes until it gets sticky and then distribute it evenly over each layer of lasagna.
Flax Seeds & Water
Ground flaxseeds and water are another instrumental combo in many vegan-based recipes. Just like chia seeds, they have the same binding properties as eggs.
Here, you'll use a straightforward ratio: 1 tbsp of flaxseeds and 3 tbsp of water for 1 egg. You don't need to heat this mixture nor use any special equipment — simply combine the two and whisk until the mixture becomes sticky.
Flaxseed lasagna is less fatty than egg lasagna, so you might need to add additional oil or butter to make up for the mixture's low-fat content.
Bechamel Sauce
Béchamel is a creamy sauce made of flour and butter (known as a roux), milk, and either parmesan or mozzarella. The result? A rich and silky sauce that will elevate lasagna recipes to a new level.
Bechamel sauce must be layered consistently, so there should be one layer of lasagna, one layer of meat sauce, and one layer of cheese for each layer of bechamel.
However, keep in mind that bechamel sauce will bind the ingredients and add richness to your meal, but it definitely won't result in calorie savings! If you are on a diet, check out our nutritional table and choose an alternative that has fewer calories, like flaxseed.
Plain Yogurt
Another option for replacing eggs is plain yogurt. Not only does it substitute eggs in a lasagna dish very well, but it also enables you to swap the ricotta for either hard or semi-hard cheese.
That's because regular yogurt is somewhat thicker than ricotta, and as a result, it has the binding power to replace both eggs and ricotta in a lasagna recipe.
Use approximately one cup of plain yogurt in place of one egg. After that, either add ricotta or mix the yogurt with a different cheese, like mozzarella. Whisk until they are combined, and cover each layer with the mixture.
Heavy Cream
One of the simplest methods to make a lasagna that is silky smooth is by using heavy cream.
There's a catch to its creaminess and smoothness, though. You must either add cornstarch or potato starch to the cream in order to make the binding work — you cannot use the cream alone.
In terms of the ratio, you should be able to get away with using half a tablespoon of starch per half a cup of cream for one egg, although you may need to experiment, considering how moist the other components are.
After thoroughly whisking the mixture, uniformly cover each layer so that the cheese and meat sauce bind.
Mashed Potatoes
Mashed potatoes aren't just a side dish! In lasagna, they can work as a binding ingredient that easily replaces eggs and, depending on your preferences, might even taste better. Your lasagna will have a thick, creamy texture from the mashed potatoes, which is ideal.
Simply boil potatoes and mash them with a little butter and milk. You can also use instant mashed potatoes or canned pumpkin puree — just make sure you get the unsweetened variety that won't ruin the flavor of your lasagna.
The ratio is 4 cups of mashed potatoes in place of 1 egg. Mix the potatoes with ricotta cheese and spread it on each layer for delicious and heavenly potato lasagnas!
Popular Lasagna Recipes You Can Try at Home
If you're looking for ideas for family dinners or parties, here are the three best lasagna recipes. Prepare to elevate this dinner classic from okay to exceptional!
Three-Cheese Meatball Lasagna
In this first recipe, the beef sauce is replaced with sausage meatballs. There's also chili for those who want their food spicy. Fennel seeds add an additional depth of taste. Moreover, the three cheeses are a match made in heaven: cheddar, parmesan, and mozzarella!
Veggie Spinach & Mushroom Lasagna
When you are trying to decide what to prepare for vegetarian guests at a nice dinner gathering or holiday feast, a lasagna with spinach and mushrooms might be a very practical solution.
This recipe includes flavorful spinach, ricotta, and mozzarella, followed by tasty shiitake and cremini mushrooms. Believe us — these mushrooms have such a meaty flavor and consistency that even meat lovers won't tell the difference!
Italian Sausage Lasagna
If you want to go with a traditional lasagna variety, Italian sausage lasagna is your best bet. It's quite simple to make and quite filling so no one will stay hungry at your dinner party, and you won't need to spend hours in preparation.
Italian sausage lasagna is cooked with tomato sauce, cheese, spices, and herbs. Instead of ground beef, use Italian sausage. You can either go mild or spicy — whichever you like more will work. Enjoy!
Conclusion
Good news! You can make great lasagna without using eggs.
You'll be pleasantly surprised by how delicious lasagna tastes when made with yogurt or bechamel.
If you are on a vegan diet, then choose chia seeds or flax seeds. Mashed potatoes should be your first pick if you're looking for something totally different in flavor.
All in all, a little creativity and effort go a long way in making a perfect egg-free lasagna — now go ahead and choose your alternative.