The best thin waffle makers will help you create a yummy and delicious breakfast in no time. Whether you're Sunday brunching or hosting breakfast for dinner, reliable and durable thin waffle makers can make delicious traditional waffles and will last a long time.
After evaluating numerous waffle makers, we determined the best thin waffle maker to be the Cuisinart WMR classic waffle maker which offers non stick cooking plates and 5 settings of browning control.
The Best Thin Waffle Makers
1. Cuisinart WMR Round Classic Waffle Maker
The Cuisinart WMR Round Classic Waffle Maker makes traditional crispy waffles with five browning settings and great features to help you make delicious waffles.
In our opinion, this Cuisinart classic waffle maker is the simplest thin waffle maker to use. Made to make one sizeable classic waffle at a time, the stainless steel appliance features non-stick plates, so you don't have to worry about messy, broken waffles. The five-setting browning control allows you to set how brown and crispy you want your waffles.
The five settings go from light-colored to deep golden brown, each setting crispier than the last. A regulating thermostat inside the appliance ensures it's always at the right temperature. And the indicator lights do more than let you know when the waffle is ready; it'll light up when the waffle maker is ready and then signal when your waffle is ready to devour.
The weighted lid ensures the waffle maker won't lift up while baking, and the rubber feet keep the appliance steady on any countertop. When you're done with the apparatus, the cord wraps neatly beneath the waffle maker. The Cuisinart WMR waffle maker also comes with an instruction and recipe guide.
Cuisinart recommends unplugging the waffle maker after use and letting it cool down with the top lid up. You wouldn't need to take apart this machine to clean it; all you have to do is brush the crumbs out of the plate's grooves and wipe them with a cloth.
Where This Waffle Maker Falls Short
As a lower-end traditional waffle maker, the Cuisinart WMR doesn't last quite as long as more expensive appliances. The hinges might come loose, but they can be tightened with a screwdriver.
In some instances, the baking plates may need oil to ensure the waffles don't stick to them. However, cleaning is easy, and you can use a damp cloth to get rid of excess oil after baking.
Cuisinart WMR Round Classic Waffle Maker Specs
Dimensions: 9.69 x 7.88 x 3.31 Inches
Weight: 3.85 Pounds
Manufacturer: Cuisinart
Release Date: May 5, 2003
Top Features
The Cuisinart WMR Classic Waffle Maker's top features include:
Dual Indicator Lights
Five Settings of Browning Control
Nonstick Cooking Plates
Regulating Thermostat
Stainless Steel Body
Instruction and Recipe Book
Three-Year Warranty
BPA Free
Pros
Five Browning Control Settings
Red/Green Indicator Lights that Signal When Maker is Ready and When Waffles are Ready
Internal Thermostat Regulator
Cord Wraps Beneath Appliance for Easy Storage
Weighted Lid Stays Down While Baking
Cons
Waffles May Stick Without Oil
Hinges Come Loose Easily
---
2. All Clad Stainless Steel Waffle Maker
The All-Clad Stainless Steel Classic Waffle Maker has all the features you need to create a crispy non-Belgian waffle, including a steam release system, seven browning settings, and more.
The All-Clad Stainless Steel Classic Waffle Maker is as efficient as it is beautiful. With seven levels of toasting, you'll create the most perfect, crispy waffle that easily cuts into four sections. An alert system signals when you have the right amount of batter in the waffle maker, and the indicator light lets you know when your waffle is ready to eat.
There are seven browning levels that vary in toastiness and shade, so you can make your waffle with minimal crispness or as toasty as possible.
The appliance has an automatic alert that lets you know when you pour the perfect amount of batter, so you never have too much or too little – just the right amount for a traditional waffle. The indicator light lets you know when time is up, and your waffle is fully baked.
The non-stick cooking surface is coated with PFOA-free material that helps the waffle slide off the plates and onto your plate.
The best feature of the All-Clad Stainless Steel Classic Waffle Maker is its steam-release system. The appliance will release steam while cooking to ensure your waffles stay crispy on the outside and light and fluffy on the inside, creating the perfect diner waffle!
The All-Clad Stainless Steel Classic Waffle Maker features a shiny stainless steel body that looks great and makes delicious waffles. The polished steel features riveted handles and a latch locking system to open and close the waffle maker and keep it closed while baking. The appliance is relatively small, and you can even lock the lid to store it vertically and save space.
Where This Waffle Maker Falls Short
This non-Belgian waffle maker lasts for years, but it has a few shortcomings. The non-stick coating doesn't last, and you may have to use oil or a spray to keep your waffles from sticking to the baking plates. However, the grooves are easy to clean, and you can wipe off excess oil and crumbs with a damp cloth.
There also may be some uneven browning at the higher toasting levels. While cooking, keep an eye on your waffles to ensure they don't overbake.
All-Clad Stainless Steel Classic Waffle Maker Specs
Dimensions: 10 x 7 x 13.5 Inches
Weight: 3 Pounds
Manufacturer: Groupe SEB
Release Date: August 27, 2013
Top Features
The top features of the All-Clad Stainless Steel Classic Waffle Maker include:
Seven Toasting Levels
Batter and Baking Alerts
PFOA-Free Nonstick Coating
Makes 6.5-Inch Circular Waffles at 1.5 Inches Thick
Steam-Release System
Pros
Alert System Indicates When the Perfect Amount of Batter is Poured
Seven Browning Levels
Steam-Release System to Create Crispy, Fluffy Waffles
Nonstick Surface Allows for Easy Clean-Up
Locking Latch Keeps Lid Closed While Baking and Allows for Vertical Storage
Cons
Some Uneven Browning
Nonstick Coating Doesn't Last
---
3. CucinaPRO Thin Waffle Iron
The CucinaPro Thin Waffle Iron is a simple to use and non-stick appliance that creates traditional round waffles almost instantly.
If you need a simple appliance with easy-to-use controls, the CucinaPro Thin Waffle Iron is a perfect choice. The non-stick plates ensure there's no mess while making classic waffles. The stainless steel waffle maker also features adjustable browning controls to ensure you create waffles the way you like them.
The CucinaPro appliance creates one large, round waffle. It features a stainless steel body and non-stick plates. With the browning controls, you can make waffles to your liking within a few minutes. The plates are also removable for easy cleaning after your waffle meal.
When you turn on the waffle iron, an alarm chimes to let you know when it reached the prime temperature for waffle making. It chimes a second time when the waffle is done baking, so you don't have to lift the lid to check on your breakfast masterpiece.
Where This Waffle Iron Falls Short
While the alarm is a useful way to know when the waffle maker reaches peak temperature and when the waffle is ready, it's loud. The chime sounds almost like a fire alarm and might startle you if you're not paying attention.
The browning controls also don't accurately represent the numbers on the appliance. You might have to let the device heat up at a higher heat setting before putting it at the browning level you desire.
Cucina Pro Thin Waffle Iron Specs
Dimensions: 12 x 5 x 9 Inches
Weight: 2.94 Pounds
Manufacturer: CucinaPro
Release Date: May 28, 2009
Top Features
The CucinaPro Thin Waffle Iron has various outstanding features, including:
Nonstick Baking Plates
Stainless Steel Body
Adjustable Browning Controls
Cord Wrap and Upright Standing
Pros
Nonstick Plates
Several Toasting Levels
Removable Plates for Easy Cleaning
Chime Alerts You When Waffle is Done
Stainless Steel Body with Simple Design
Cons
Browning Controls are Inaccurate
Alert Chime is Loud and Startling
---
4. Chef's Choice 840 Waffle Iron
The Chef's Choice 840 Waffle Iron creates clover-shaped non-Belgian waffles that can be sliced into five sections. Make five waffles at a time – or one giant waffle that you can stack up on one plate! With several heat and cooking settings, your waffles will come out in the perfect form.
This thin waffle maker has an instant temperature recovery and beeps when the waffle is done, so you don't overcook it. With this appliance, you'll have crispy, fluffy waffles in 90 seconds.
There are several different baking modes, from deep bake to crisp exterior and moist interior. You can also control your waffle maker's color settings and decide whether you want golden waffles or brown ones.
This classic waffle maker features a floating lid to ensure the batter bakes evenly. An overflow channel surrounding the bottom plate ensures that you won't find dried-up batter months from now, and clean-up is easier than ever. Store the cord in a built-in compartment so that you can store the waffle maker upright or lying down, whichever saves more space in your cupboard.
Where This Traditional Waffle Maker Falls Short
The Chef's Choice 840 Waffle Iron is durable and efficient, and there aren't many problems with the appliance. However, the waffles you make with this machine might be smaller than you expect. They are traditional waffles, so they are thin, but cutting them in five pieces to share with others creates tiny waffles. Consider cutting them in half or making one large clover waffle.
Also, the white print on the controls wipes off easily, especially after several cleanings. As long as you remember which button controls what, you'll still be able to create yummy waffles.
Chef's Choice 840 Waffle Iron Specs
Dimensions: 12 x 12.75 x 5.25 Inches
Weight: 5.05 Pounds
Manufacturer: Chef's Choice
Release Date: May 5, 2003
Top Features
The Chef's Choice 840 Waffle Iron's best features include:
Five Heart-Shaped Waffles Baked at a Time
Nonstick Surface
Customizable Flavor, Texture, and Color
Beeper and Light Alert System
Deep-Bake or Crispy/Fluffy Baking Settings
Floating Top Plate
Overflow Channel
One-Year Warranty
Pros
Select Crisp Exterior/Moist Interior or Deep Bake Setting
Choose Waffle Color, from Golden to Brown
Overflow Channel Allows for Easy Cleaning
Unique Clover Shape Cuts into Five Waffles
Compartment Stores the Cord for Easy Storage
Cons
Waffles are Small
White Print on Controls Fades Quickly
---
5. Palmer Electric Thin Belgian Waffle Maker
The Palmer Electric Non-Belgian Waffle Maker makes thin, cookie-like waffles using cast aluminum plates.
If you want a thin waffle iron that can make more than just waffles, consider the Palmer Electric Non-Belgian Waffle Maker.
This cast aluminum appliance creates two very thin waffles – or stroopwafels! You can make two at a time, and they bake in just a few minutes. Made in the United States, this appliance comes with a five-year warranty.
This Palmer Electric waffle maker cooks four-inch waffles in just a few minutes. The aluminum cast plates extend down the unit's side, so it's easy to clean when there's a lot of runoff batter. The material is heavy duty and lasts a long time, though the five-year warranty ensures you're protected in case of damage.
This particular machine is ideal for making stroopwafels, a thin Belgian cookie made of waffle batter. However, you can use it however you desire and create thin waffles to enjoy with strawberries, syrup, or plain butter.
Where This Thin Waffle Iron Falls Short
While the cast aluminum cooks the waffles evenly and is easy to clean, it is not a non-stick surface. Be sure to incorporate the oil in your recipe or spray down the iron before each use.
Unlike the other traditional waffle makers on this list, this waffle iron does not have browning controls. It takes some time to experiment with cooking time to determine how crispy you want your waffles to be.
Palmer Electric Non-Belgian Waffle Maker Specs
Dimensions: 14.9 x 10.3 x 3.8 Inches
Weight: 5.1 Pounds
Manufacturer: Palmer USA
Release Date: October 2, 2005
Top Features
The Palmer Electric Non-Belgian Waffle Maker's top features are:
Makes Two Thin Waffles at Once
Cast Iron Pan
Five-Year Warranty
Pros
Create Waffles and Stroopwafels
Cooks Two at a Time
Easy Clean-Up
Durable Aluminum Cast
Five-Year Warranty
Cons
Not a Non-stick Surface
No Browning Controls
Why We Chose These Thin Waffle Makers
There are endless options when it comes to choosing the best thin waffle maker. But why did we choose the ones listed above? These classic waffle makers are the best on the market for making evenly browned, delicious waffles.
Creating criteria for the best waffle maker is a little subjective, as everyone eats their waffles differently. Some like ultra-crispy waffles, while others only like a little bit of crispness with extra fluffiness on the inside.
We looked at those that could cook up waffles for any taste bud to choose the best thin waffle maker.
Here are the criteria each traditional waffle maker had to meet to make the list:
Even Cooking
Top-notch waffle makers heat up the batter evenly, creating an overly golden or browned waffle. Waffles should not have burnt patches or uncooked spots. Every piece should look the same on every waffle you make. Consistency is critical, after all.
Good classic waffle makers often release steam to help with evenly cooking the waffle. Steam release during the baking process also helps with creating crispy waffles with fluffy insides. The method also keeps the waffle from getting soggy. If your waffle maker doesn't release steam, it may be time to search for a new one.
Lightweight and Sturdy Build
The thin waffle maker should be lightweight but built to last a long time. Carrying and transporting the appliance shouldn't be a hassle. Anything weighing more than five pounds isn't worth it, as there are plenty of affordable waffle makers under that weight.
The appliance should also be made of sturdy and durable materials. Stainless steel is a common material used for the body, as it's easy to clean and doesn't take on too much wear and tear over the years.
Also, the best thin waffle makers store easily in small spaces. You're likely not using it every day, so why waste a lot of kitchen space with it?
Non-Stick and Easy to Clean Baking Surface
Most modern waffle irons have non-stick baking surfaces that make cooking and cleaning a breeze. For the most part, waffle makers still need a brush of oil to keep them genuinely non-stick, but having that extra coating can go a long way in enhancing your waffle-making experience.
Cleaning Time
To find the best thin waffle makers, we also considered how long it takes to clean them. Cleaning is an unavoidable part of any cooking experience, and it shouldn't take too long. The best classic waffle makers will have non-stick surfaces and other features that make them easy to clean.
If they don't have a non-stick coating, check the instruction manual. Chances are you may be able to take apart the plates and put them in the dishwasher.
Attractive Features
The best thin waffle maker will have features that make waffle making fun and easy. Indicators and lights are an essential addition, especially if you don't have a timer. Browning controls are also great as you can control how crispy or golden you want your waffle.
There are numerous features thin waffle makers can possess, from chiming alerts to overflow channels for easy cleaning. While not every non-Belgian waffle maker has all of these great features, consider which ones are most important to you.
See our related article on the best belgian waffle makers.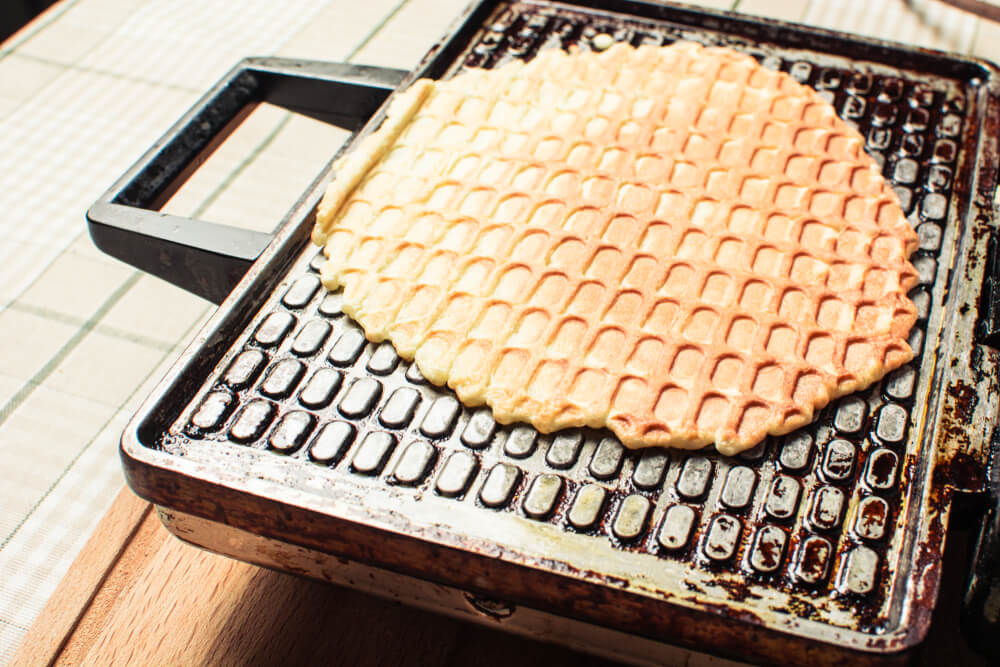 What Should I Look for in a Traditional Waffle Maker?
Shopping for the perfect waffle maker for your kitchen shouldn't be a stressful task! Here are a few key factors to consider when looking for a thin waffle iron:
Type of Waffle Maker
The type of waffle maker you buy is essential in making traditional waffles. For thin waffles, the maker's box should specifically say "thin waffle iron" or "makes classic waffles" (or something else that indicates it's for thin waffles). They typically make circular or clover-shaped waffles that you can split into multiple pieces. The grooves are very shallow, too.
If you want Belgian waffles, look for a waffle maker that has large grooves and flips over.
Baking Plates
Non-stick baking plates are ideal for baking delicious waffles. The non-stick coating helps your waffle quickly slide out of the appliance without tears. Waffle irons with non-stick plates are also easy to clean, as the debris wipes off with a few swipes.
Nonstick coating sometimes fades over time, so don't be afraid to use oil in your waffles or spray the plates. You can always wipe it off later.
Cast iron waffle irons and those without non-stick coating are a little more difficult to clean and cook with. If you buy a cast iron waffle maker, remember to spray the surface before pouring the batter every time.
Waffle Maker Size and Weight
How many waffles do you plan to make with your new appliance? If you're planning on cooking for many people, look for waffle irons that can create multiple waffles at a time. You can also make one giant waffle and split them up into numerous small pieces (but who would want to eat a tiny waffle, anyway?) There are many cheaper waffle makers that make waffles for one.
Weight is also just as important, especially if you plan on transporting the waffle maker. Look for something lighter in weight and can be easily carried or brought out from a tall cupboard.
Toasting Controls
Just like a toaster has toasting controls, a waffle maker can come with browning controls. High-end waffle makers often have controls that let you set how golden or brown you want your waffle. Cheaper appliances typically don't have this function, so you have to gauge the cooking time to create the perfect crispy waffle.
Cooking Time
Consider the cooking time and how quickly you want your waffles to cook. Thin waffle iron cooking times range between two and five minutes. If a waffle iron takes more than five minutes to make a waffle, it might not be worth it.
Cleaning and Storage
The easier it is to clean up post-cooking, the more satisfying your experience with your waffle maker. Certain waffle iron materials are easier to clean than others, so look out for the following materials when doing your waffle maker shopping:
Steel: Steel waffle makers last a long time and are very easy to wipe down. However, they take a while to heat up.

Aluminum: This material is quick to heat and energy-efficient but will take on wear and tear.

Non-Stick Baking Plates: Baking plates with a non-stick coating help ease cleaning time and make great waffles without a sticky mess. However, you can't put them in a dishwasher. (See the best waffle makers with removable plates)

Cast Iron: This material might take a while to heat up. But once it does, it will retain heat and cook warm and delicious waffles. Cleaning them is challenging, though, if you don't use oil or a spray while cooking.
Some waffle irons also come with detachable plates, which makes cleaning even more manageable. For storing them, look for lightweight waffle makers that aren't tough to carry and move around. High-end waffle makers have compartments that hold the cord, and some can be stored vertically.
High-Tech Features
Consider other features you might want on your waffle maker. Do you need an indicator or chime to let you know when the waffle is done? What about color control to create golden or brown waffles?

You can purchase waffle makers that have locking latches to keep the top lid in place. There are also waffle makers that have overflow channels for easy clean-up. Typically, the more expensive waffle makers will have most of these top-notch features.
FAQs: What Questions Are Other Buyers Asking?
Consider the following questions when looking for the right thin waffle maker for your kitchen.
Should Waffles be Thin or Thick?

Waffles can be thin or thick, depending on your preference. It's easy to make each type, too.
Soft and thick waffles need a thick layer of batter. Thin and crispy waffles need a thin layer of batter poured into the waffle maker. Of course, using a thin waffle maker will help you make thin waffles without many issues.
What are Thin Waffles Called?

Thin waffles have a variety of names. They're also known as:
American
Classic
Traditional
Old-Fashioned
Regular
Non-Belgian
Eggo-Style
Thin, cookie-like waffles are also known as stroopwafels or Belgian cookies. Belgian waffles are very thick, fluffy waffles.
What is the Difference Between Belgian and Normal Waffles?

Belgian and regular waffles have distinct differences that make them easy to tell apart.

Appearance

Belgian waffles are notably thick and fluffy. They're very yellow but have a little bit of golden color around their deep pockets. They're usually several inches thick.
Regular waffles, on the other hand, are thinner and crispier. Their dense texture makes for a richer, more buttery taste.

Recipe

Belgian and regular waffles are also made slightly differently. Belgian waffles use a yeast-based recipe and less baking powder so they can efficiently rise and create their famous thick, fluffy, bready texture. Some chefs even use egg whites to enhance their fluffiness. On the flip side, traditional waffles typically have a buttermilk base, making for a richer taste.

Size

You use different waffle makes to make Belgian and classic waffles, which makes them differ in size. Of course, Belgian waffles are often more than an inch thick, while classic waffles are less than an inch thick.

Authentic Belgian waffles need to be made with a specific waffle iron with a bigger, deeper grid. Traditional waffle makers don't usually flip over and can be used to make waffles in varying thicknesses. You can also use classic waffle makers for cooking other foods, like eggs, grilled cheese sandwiches, and more.
Are Flip Waffle Makers Better?

Flip waffle makers are designed to evenly spread the batter if you don't pour enough. They are typically better for making Belgian waffles to ensure all your batter is spread out and will cook evenly. While it's a great feature, it's not necessary to make crispy, fluffy thin waffles.
Are Pancake and Waffle Batter the Same?

Pancakes and Waffles are two breakfast foods made of batter, but they differ in distinct ways, particularly in the batter recipe.

While they both start off the same with eggs, butter, sugar, and leavening agents, there are a few differences. There is often more butter and baking powder in waffles. Some waffle recipes also call for oil to keep the batter from sticking to the waffle iron while cooking.

Chefs also change up their batter recipes every now and then. Some like to add egg whites to pancake batter to make them fluffier. Many chefs experiment more with pancakes and add different ingredients to the batter to level up the resulting dish.

The main difference between pancakes and waffles, however, is how they're cooked. Pancakes are cooked in a pan, while waffles are made in an iron or waffle maker.
How do I Make My Waffles Crispy?

To make your thin waffles crispy, make sure your batter is consistently smooth. Batter with little bumps or lumps in it could affect the crispness of your waffles.
How do I Make Classic Waffles?

Thin, crispy waffles are intimidating to make at first. You may not know how much batter to pour in, and it can sometimes be a challenge to get the batter to the right consistency. Pouring too much batter into a shallow, thin waffle iron can make a mess, also. Use these tips to create yummy thin waffles:
Pour enough batter so that you cover the base of the waffle. Don't worry about covering the raised grooves.
Don't use pancake batter. Good waffle batter has more sugar, while pancake batter wasn't made to create a light but crispy waffle.
Separate the eggs before adding them. Add the yolks first and whip the egg whites into peaks. Fold the egg whites into the batter at the end – just before you pour it into the waffle iron. Separating eggs helps create crispy but fluffy waffles.
Make sure the waffle iron plates are hot and ready to cook. A waffle maker that's not ready or hot enough will make soggy and sad waffles.
Consider brushing oil on the plates instead of using a spray. A spray can diminish the non-stick properties over time. If you can, brush them with cooking oil instead. If your thin waffle maker doesn't have non-stick plates, make sure to grease the surface before pouring batter each time.
Add fat to the batter to prevent sticky waffles. The extra fat from butter or another source will ensure the waffles slide right off the plates when they're ready.
Don't add chopped, juicy fruit. Adding wet fruit to the batter will moisten it and make for soggy waffles. Drop whole pieces on top of the batter before closing the waffle maker instead of mixing it in.
Don't try to take out undercooked waffles. Patience is your friend! Undercooked waffles will stick to the plates and won't come out as quickly. And definitely don't lift the lid while cooking for a sneak peek of your waffle. It'll mess with the texture.
Don't Use Metal Utensils to Lift the Waffle. Use plastic, rubber, or silicone utensils to take the waffle out of the appliance. Metal pieces can scratch the plates and ruin the surface.
Let the device cool completely before cleaning. Letting the waffle iron cool will make it easier to wipe off debris; plus, you can use a damp cloth to clean.
Conclusion
The best thin waffle maker is the one that will give you the most benefits. There are numerous features on today's non-Belgian waffle makers, and the options are nearly endless. Weigh the pros and cons of each, and consider how it will benefit you and your needs. Do you want to make razor-thin waffles, or do you want all the settings controls?
The above five thin waffle makers each have distinct features that set them apart from one another. From overflow channels to multiple control settings, each of the above five non-Belgian waffle makers will make amazing waffles.
Making waffles is a beautiful pastime for chefs, family, and friends to create a delicious and memorable meal. Whether you're making them for breakfast, lunch, dinner, or a midnight snack, the right traditional waffle maker will take you right back to your childhood memories.