Whether you're vegan or not, canned hearts of palm are one of the best items you can have in your kitchen.
It's one of the best substitutes for seafood and meat, thanks to its versatility and delicate flavor.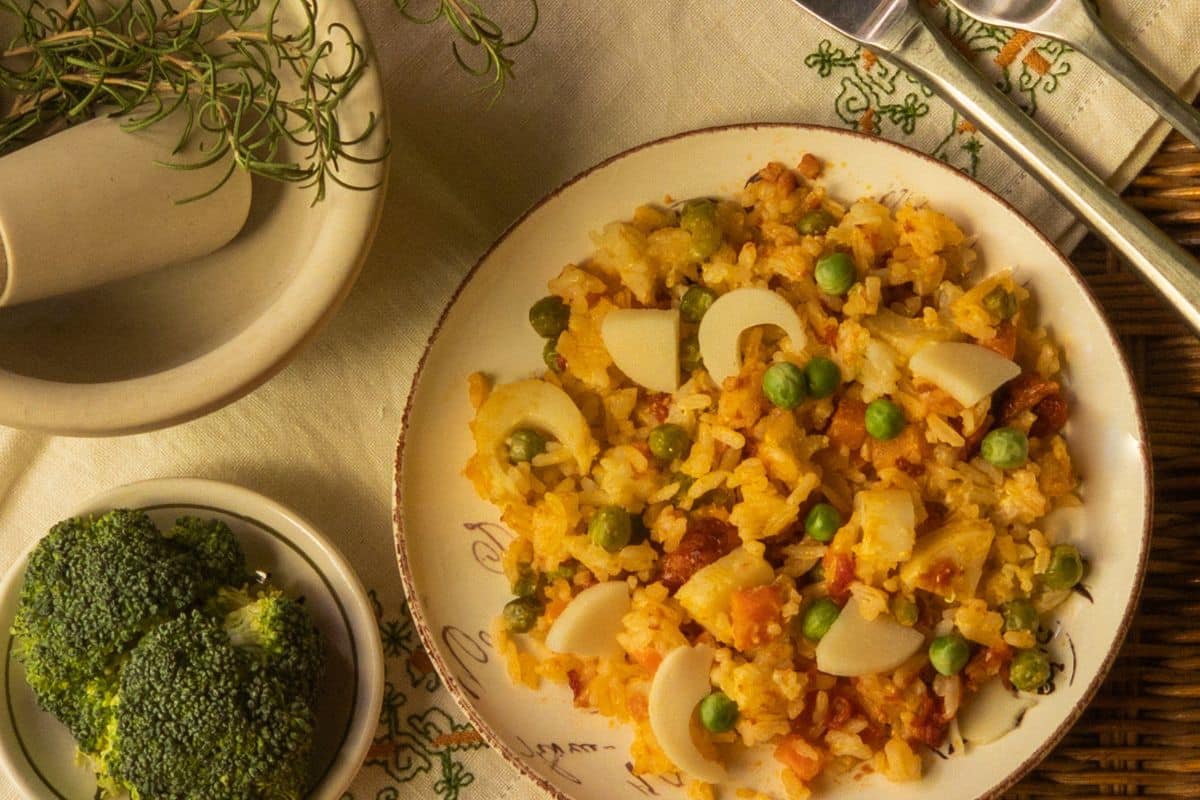 With such a minimal flavor, that is often likened to artichokes, these hearts of palm are easy to disguise as something else in a dish. 
Hearts of palm are harvested from the core of a palm tree species native to Central and South America. They are most commonly packed in cans of brine or water to preserve the texture and flavor.
Also, as they aren't native to the United States, it's quite difficult to find them fresh. 
So, if you have a can or two of hearts of palm lying around in your pantry, you've come to the right place. Here are the X best canned hearts of palm recipes that are suitable for vegans, vegetarians, and omnivores alike!
Canned hearts of palm are so often likened to artichoke hearts in flavor and consistency, so it makes sense to pair the two together in a refreshing salad.
This simple salad is ideal for summer, thanks to the inclusion of fresh cherry tomatoes, cucumber, avocado, artichoke hearts, and hearts of palm. 
The salad is combined with a tasty mustard vinaigrette, which works beautifully with the delicately flavored hearts of palm. It's tangy, sweet, and savory at the same time – a perfect side dish for a barbecue or large summer meal.
Also, considering this salad takes only 10 minutes to prepare, this is a great option for those who need a quick and filling lunch while working from home in the summer.
Just because you're vegan or vegetarian doesn't mean you have to miss out on one of the nation's favorite seafood dishes!
These crab cakes are completely vegan thanks to the substitution of crab with hearts of palm, which are shredded to mimic the texture of crab meat. Plus, this recipe only calls for one can of hearts of palm. 
While this recipe includes seasonings that will make the hearts of palm taste like crab meat, it's best to use canned hearts of palm in brine, as this will give it that distinctive sea-like flavor.
When it comes to shredding, make sure to cut the hearts of palm into thin strips before shredding the "meat" with your fingers. 
Not only is this recipe vegan, but it's also 100% gluten-free!
Everyone loves risotto. It's creamy, filling, and heart-warming, and ideal for a weeknight meal. Did you know that you can make a risotto with canned hearts of palm?
The inclusion of hearts of palm makes for a surprisingly crunchy risotto, that is low in carbs and calories yet very filling. 
Alongside the hearts of palm, this risotto consists of rice, vegetables, and vegetable broth, making for a super savory dish that will keep you full in the cold months.
Just keep in mind that this recipe calls for cheese, which isn't always vegetarian, and certainly isn't vegan. Otherwise, this is a superb vegetarian-friendly dish, if you can find veggie-appropriate Parmesan. 
Serve with chopped fresh parsley and optionally with a side of garlic bread.
Again, just because you're a vegan or vegetarian doesn't mean you have to miss out on one of the nation's favorite seafood dishes.
Lobster rolls are a staple across New England, and are often seen as the hallmark of summer grilled foods. The only difference is that these vegan lobster rolls are made of hearts of palm rather than lobster meat. 
This recipe is best made the day before you intend to eat it. This is to allow the hearts of palm and vegetables to marinate all the tasty flavors, which will best mimic the light yet fishy flavor of lobster.
The best part about this recipe is that if you have any of the lobster mix leftover, you can eat it as a refreshing summer salad.
Traditionally, Moqueca is a Brazilian fish stew in a coconut and tomato broth.
However, this recipe uses hearts of palm instead of fish, making for a hearty and delicious vegan stew that mimics the texture and flavors of fish wonderfully. It's aromatic and gently spicy, which is ideal if you've hit a cooking slump. 
The beauty of a vegan Moqueca is that you can experiment with the ingredients.
While the recipe calls for carrots, onions, bell peppers, and cherry tomatoes, you can always add more vegetables if you need to use them up. This includes vegetables such as artichoke hearts or courgettes. 
This vegan Moqueca stew is best served with white rice and fresh coriander. While it's not traditionally done, you can also scoop up the rest of the juices with bread.
This certainly isn't a vegan or vegetarian dish, but it's the perfect recipe for meat eaters who are looking to lose some weight.
This dish consists of a hearty turkey chili, which is served on a bed of spaghetti made of hearts of palm. That's right – you can turn your canned hearts of palm into pasta. 
The only thing to keep in mind is that most canned hearts of palm come chopped already.
Try to look for uncut options, as this will help you to shred the hearts of palm into longer, spaghetti-like lengths. Otherwise, you can shred the chopped hearts of palm into a shorter pasta, or even something that mimics rice. 
You can also buy hearts of palm pasta, but this isn't as easy to find, nor as fun to cook compared to making it yourself.
Another great way to use canned hearts of palm is to turn it into vegan calamari. This is a great appetizer dish for an evening of grilled foods, or even a side dish to accompany more vegan seafood dishes.
Hearts of palm is the perfect substitute for actual squid, because the texture can be easily mimicked to replicate the seafood. 
To make the vegan calamari, simply slice the hearts of palm into small pieces, and pop out the center to make a ring.
You can always fry the leftover hearts of palm, or you could turn it into a refreshing salad to accompany your vegan calamari. 
As for the frying of the hearts of palm, the rest of the recipe doesn't differ too much from an actual calamari recipe. Just make sure to fry until the pieces are golden brown, and serve with a slice of lemon.
You can turn basically anything into soup, including hearts of palm! This Brazilian hearts of palm soup recipe is surprisingly easy to make, and tastes incredible.
It's delicate yet tangy, and makes for a perfect appetizer for a dinner party, or even just a quick lunch. 
To make this soup, you'll need to slice the hearts of palm into 1-inch slices, saving a few to garnish your soup.
Then, you cook them like any soup recipe – chuck everything into the same pot, bring it to a boil, season to your liking, and then blend everything into a creamy soup. 
The best part about this soup is how quick it is to make. You don't have to worry about marinating or slowly boiling vegetables – the flavor is all there anyway. Serve with chunky white bread and enjoy.
Vegans and vegetarians shouldn't have to miss out on fish and chips because of their diet. These vegan fish sticks made of hearts of palm prove that you don't need fish to make fish sticks.
This is certainly one of those fool-proof meals that will trick even the most stubborn meat eaters into thinking this is real fish! 
A lot of people who turn vegetarian or vegan find that fish is often the hardest to give up. So, why not satiate your seafood cravings with these vegan hearts of palm fish sticks?
The texture of the hearts of palm isn't dissimilar from actual fish, and the tasty Old Bay seasoning makes them taste almost exactly like real fish sticks. 
Serve with homemade fries, vegan tartar sauce, and even mushy peas if you want to make your own classic British dish.
Ceviche is a traditional Hispanic dish that is made of fresh raw fish, citrus juices, and seasonings. It's most commonly served as an appetizer or side dish, and makes for a beautifully refreshing salad.
If you're vegan or vegetarian, you can substitute the raw fish for hearts of palm! 
This is a good hearts of palm ceviche recipe, as it is more or less the same as a traditional ceviche recipe.
It features fresh ingredients such as tomato, jalapeño, cilantro, avocado, and lime juice, making for a refreshing and flavorful accompaniment to a meal. 
This vegan ceviche can be served on its own, or with chips, lettuce cups, or mini tostadas for a light dinner or lunch.
The key is to allow the ceviche to marinate and chill for at least 30 minutes to allow all the flavors to soak into one another. 
If you're not the biggest fan of the texture of hearts of palm, but need to use up your cans, you can always turn them into a tasty dip.
This is also a great option for those who love to experiment with different dips – especially if you have company around and want to impress them with your dip-making skills! 
This hearts of palm dip is zesty and creamy, and makes for the perfect appetizer dip alongside vegetables and chips.
Your guests will have a tough time trying to identify what is in the dip, because it's creamy, tangy, and satisfyingly crunchy. 
The best part about making dips is that you can adapt the recipe to your liking, adding more citrus flavors or spice if you wish. This dip is best served with plantain chips and chopped vegetables.
Carnitas are traditionally a Mexican pork dish, favored for its inexpensive ingredients and juicy meat. It's a staple in Mexican cuisine, so if you're a vegan who loves Mexican food, check out these vegan hearts of palm carnitas.
Hearts of palm is a great substitute for meats like pulled pork as well as fish, because the "flesh" of the palm can be shredded into a consistency similar to pulled pork.
It's a great plant-based protein, and can stand to be simmered for a long period in a marinade to soak up all the delicious flavors. 
You can experiment as much as you like with these carnitas, adding whatever veggies and flavors you like. Serve alongside other vegan Mexican dishes for a Spanish-inspired dinner party!
Tacos can be made with virtually any type of meat, fish, or plant-based protein, including hearts of palm.
Tacos are all about the flavor and satisfying crunch, so the best way to emphasize these aspects is to bake or pan-fry the hearts of palm to make the crispiest taco filling.
It's so good that even your meat eater friends will question their own diet. 
The best part about this recipe, however, is the chipotle baja sauce. It can be made completely vegan by swapping out the sour cream and mayonnaise for vegan alternatives, and makes for a spicy yet creamy addition to the tacos.
This taco filling is best served with toasted corn tortillas to complement the crispy hearts of palm, but it also works well in soft shell tacos if that's all you have available.
You can turn basically anything into a delicious pizza topping, including hearts of palm.
If you've got some canned hearts of palm in your pantry and you want to make something quick and filling, you can never go wrong with a pizza. Just like any other vegetable, hearts of palm make for a tasty savory topping! 
This recipe calls for pre-made pizza dough, but you can always make your own easily with flour, water, yeast, salt, and olive oil.
Within 10 minutes of prep and about 10 minutes of cooking, you've got yourself a tasty pizza that uses up hearts of palm beautifully! 
You can either leave the hearts of palm raw on the pizza, or fry them up in corn flour to make them crispy. This is a good substitute for a meat topping.
Caprese salad is a popular appetizer consisting of mozzarella, tomato, basil, and olive oil.
If you want a vegan version, however, you can add chopped hearts of palm to the vegan mozzarella cheese and tomatoes. You've got yourself a tasty and nutritious appetizer! 
The key to this salad is to use as many fresh ingredients as possible, including ripe tomatoes from the vine and fresh basil.
Paired together with a red wine vinaigrette and optional red onions, and you've got yourself a refreshing yet surprisingly filling dish. 
Also, if you don't like vegan mozzarella, then you can thinly slice the hearts of palm to use as a substitute for the cheese.
Po' boys are a Louisiana-native sandwich that typically consists of roast beef, fried chicken, or seafood. It is most famously served in New Orleans, which is home to the New Orleans French bread.
If it's not served in this bread, you can hardly call it a po' boy sandwich! 
Luckily for vegetarians and vegans, you can easily substitute meat or fish for hearts of palm.
The key is to make the hearts of palm as crispy as the meat filling, which is achieved by coating the hearts of palm in panko bread crumbs and baking them.
It's crispy on the outside and creamy on the inside, making for the perfect sandwich filling. 
Serve with iceberg lettuce and Creole mayonnaise for a filling and tasty lunch.
Another popular sandwich recipe, these vegan hearts of palm BBQ sandwiches are perfect for an evening grill party.
It's essentially a vegan-friendly version of pulled pork sandwiches, as hearts of palms can be shredded into thin strips to mimic the meat. It's a bit softer than the real meat, but just as delicious. 
The key with this recipe is to nail the barbecue sauce. You can smother the hearts of palm in store-bought BBQ sauce, or you can have a go at making your own. Either way, you'll be needing a lot of barbecue sauce for this recipe.
Then, serve the hearts of palm BBQ filling inside burger buns or sandwich rolls, or lettuce wraps for a healthy alternative.
Roasted artichoke dip is a favorite among dip-lovers, so it makes sense to add hearts of palm to the mix considering how similar they are.
This is a good way to use up both artichoke hearts and the canned hearts of palms that have been lingering in your kitchen for months. 
This is also a good recipe for those hosting a dinner party, as it's fancy enough to work as a nice appetizer. You can also use any leftovers inside sandwiches or wraps for lunch the next day.
Plus, it's a vegan recipe, so everyone can enjoy this dip! 
Serve this dip with a mixture of chips or chopped vegetables.
You can't go wrong with a tropical salad. This salad features hearts of palm as the main source of protein, along with watercress, onion, avocado, and mango among seasonings.
It's hardly a conventional salad, but it's refreshing and tangy, and perfect for summer. 
This is one of the best salads to make as a side dish at a dinner party, or just for a quick lunch during summer.
Summary
So, there you have it! There are countless things to do with canned hearts of palms, from dips to tacos to pizzas to salads. Hopefully, this list has inspired you to get creative in the kitchen.