Rock salt isn't something you find in most homes. However, this pebble-like salt has its place in the kitchen. It's most commonly used to make ice cream or keep things cold.
Food-grade rock salt is also a critical component in most brines.
But where can you find rock salt in the grocery store? Keep reading to learn everything you need to know.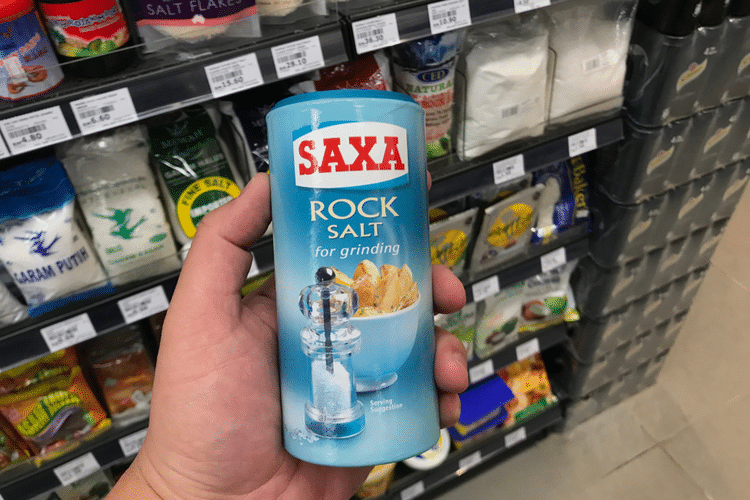 Where to find Rock Salt in the Grocery Store?
When you go on the hunt for rock salt in your grocery store, bear in mind that there are two types of rock salt. You'll use food-grade rock salt in the kitchen, while an inedible version is what you'd use to prevent your driveway from freezing over.
The latter is treated with chemicals, so avoid it if you're looking for salt to make a brine.
There are two places you can check for rock salt in your grocery store. Keep your eye out for standard white rock salt and Himalayan pink sea salt.
Spice Aisle
The most likely spot for rock salt is the spice aisle with the rest of the salt and seasonings. It would most likely be along the bottom shelf with the other larger containers of salt.
Be sure not to confuse rock salt with kosher or pretzel salt. Despite their size, these salts aren't the same as rock salt. You want to make sure you grab the right thing.
Bulk Section
The second place you can check for rock salt is the bulk section. Since the bulk section is where you'll find other high-quantity packages of goods, it stands to reason rock salt might be there, too.
Whatever you do, don't purchase the rock salt from the hardware or outdoor section. Salt found there will contain chemicals intended for de-icing and can be dangerous for humans if ingested.
Where to Buy Rock Salt Near Me
You can find food-grade rock salt in most grocery or big-box stores. There are also several places online you can check.
Don't go for the rock salt you'd find in home improvement or hardware stores because that's usually not fit for human consumption.
Here are some of the places you can purchase rock salt.
Acme
Aldi
Amazon
BJ's
Costco
Food Lion
Giant
HEB
Piggly Wiggly
ShopRite
Target
Walmart
Wegmans
Whole Foods
How to Store Rock Salt
All forms of salt are sensitive to moisture, so you must store your salt correctly to avoid it caking up. Keep your salt in a cool, dry place with a consistent temperature.
If your salt comes in a paper or cardboard container, consider putting it in a glass or plastic airtight container. This will prevent any moisture from getting to your salt and ensure its longevity.
Avoid storing your salt in a garage or basement, or other areas of your home that don't have a regulated temperature. Fluctuations can cause condensation to form in your salt container.
Common Ways to Use Rock Salt
Rock salt has several common uses in the kitchen. These include cooking, brining, and seasoning, among others.
Ice Cream
Possibly the most common use for rock salt in the kitchen is for making ice cream. Although there are tons of options for ice cream makers, traditional ice cream recipes involve a double bowl method.
All of the ingredients for the ice cream would go into a smaller bowl. Then, that bowl goes into a water, ice, and rock salt bath in a larger bowl.
The salt would help keep the ice from melting and speed up the freezing process, while the ice water would make it easier to rotate the bowl.
Brine
Brine is a salty liquid that tenderizes and flavors meats, vegetables, and other foods. It makes an excellent marinade for meats and is critical for any pickle recipe.
You can also use kitchen rock salt to make a brine for de-icing your driveway. Of course, road salt is a better option. But if you're in a pinch, the salt in your kitchen cabinet will make a nice de-icing brine.
Cooking
Another everyday use for rock salt is cooking. For example, you can use rock salt for cooking meat or fish in a quick and easy recipe. Simply line your baking tray with rock salt, lay down your meat or fish, then coat it with more salt.
As the salt cooks, it'll form a crust that keeps moisture inside the meat. It's an excellent way to cook a moist, flavorful roast with little effort.
Lowering Temperature
Another surprising use for rock salt is to help your cooler stay cold. Some people simply use ice or an ice bath to keep their beverages and other foods cold in a cooler. Those aren't the only options, though.
Adding rock salt to your ice will help keep your ice from melting too quickly. This can be invaluable on sweltering summer days or when you need your cooler to work for an extended period.
Seasoning
Perhaps the simplest use for rock salt is as a seasoning. Whether it's regular salt or Himalayan, rock salt is what you need for your salt grinder.
Salt that's a smaller grind won't work well in a grinder, nor will it give you the same taste.
Freshly-ground salt offers a sharper flavor than ordinary table salt. In addition, you generally need less fresh-ground salt than you would regular salt. So, if you want to cut back on your salt consumption, this is a way to do it.
What to Get Instead
Depending on your purpose, you can use any type of salt in place of rock salt. That includes table, kosher, or pretzel salt.
Pretzel salt offers the largest grind, but it's still quite a bit smaller than rock salt. However, each type will be an acceptable substitute for ice cream or brine.