Gouda cheese is a Dutch cheese with a semi-hard, dense texture. It's a mild cheese with a combination of nutty and caramel-like flavors that provide the palette a smooth, sweet sensation. People commonly use Gouda cheese on charcuterie plates, sandwiches, mac n cheese, or for wine pairing.
However, there may be instances where a substitute for Gouda cheese is necessary. In this post, we'll go over Gouda cheese substitutes, what quantities you'll need for each replacement, things to consider when using an alternative, and in which situations a replacement may be necessary.
Cheeses Similar to Gouda
Fortunately, there are a few less expensive cheeses that may already be in your refrigerator that taste comparable to Gouda cheese.
Since each of these cheeses are similar in taste and texture to Gouda, you can use the same measurement ratio in recipes.
Here are the Gouda cheese alternatives:
Munster Cheese:
Munster is an excellent alternative to Gouda cheese because, like Gouda cheese, its flavor amplifies with age. It also has a similar mildly pungent aroma and nutty, sweet taste that resembles Gouda. Munster is cheaper and easier to find in the grocery stores, or is something you may already have on hand.
Ideal Recipes and Pairings to Use as a Gouda Replacement: pizzas, cheeseburgers, sandwiches, appetizers, and beer pairings.
Monterey Jack Cheese:
Most US grocery stores sell Monterey Jack cheese at a reasonable price. Although its flavor is more buttery, its mild taste and dense, semi-hard texture are similar to Gouda cheese. Much like Gouda cheese, Monterey Jack cheese pairs well with Pinot Noir and tastes delicious on crackers and sandwiches.
Ideal Recipes and Pairings to Use as a Gouda Replacement: bread, crackers, sandwiches, quesadillas, and Pinot Noir.
Cheddar Cheese:
The chances are high that most cheese lovers have cheddar cheese stocked in their refrigerators. Cheddar cheese varies in flavor depending on its color, but like Gouda cheese, cheddar's flavor intensifies with age. It also has a slight nuttiness that resembles Gouda. Yellow-orange cheddar cheese is the ideal cheddar to use for a Gouda replacement.
Ideal Recipes and Pairings to Use as a Gouda Replacement: mac n cheese, grilled cheese, and cheeseburgers.
Gruyere Cheese
Gruyere cheese is a hard, dense Swiss cheese that resembles the nutty, mild flavor of Gouda. Much like Gouda, Gruyere cheese's flavor strengthens with age, pairs well with white wines, and is a fantastic cheese to use in recipes because it doesn't cover up the flavors of other ingredients. It's also available at most grocery stores.
Ideal Recipes and Pairings to Use as a Gouda Replacement: pasta dishes, soups, sandwiches, salads, rice dishes, stews, beer, sparkling apple ciders, and white wines.
Havarti Cheese: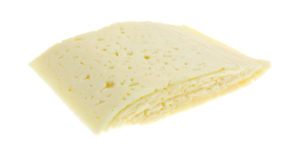 Havarti cheese is a popular cheese in Denmark and may be on the pricier side, but it is still a cheese very similar to gouda. Like Gouda, Havarti cheese pairs well with wine, fruits, is a pale yellow color, mild, creamy, and slightly nutty.
Ideal Recipes and Pairings to Use as a Gouda Replacement: crackers, bread, fruits, wine, and garlic, basil, or dill-based dishes.
Edam Cheese
Edam is another Dutch cheese that may be just as expensive and not sold in every grocery store; however, it's a cheese similar to Gouda nonetheless. Edam cheese has a semi-hard texture whose taste amplifies with age, just like Gouda. Its flavor also resembles Gouda with its nutty tones and pairs well with all the wines that Gouda cheese does.
Ideal Recipes and Pairings to Use as a Gouda Replacement: fruit and all the wines that pair well with gouda.
Substitutes for Smoked Gouda
To substitute for smoked Gouda in a recipe, you'll want to go with a similar cheese that also offers the same smokiness. In this case, it's best to go with a smoked Colby, smoked mozzarella, or young smoked cheddar. They are the easiest to find at any grocery store and taste the most similar to smoked Gouda.
Ideal Recipes and Pairings to Use as a Gouda Replacement: crackers, dishes with bacon or ham, bread, champagne, white wines, and mac n cheese
Vegan Substitutes for Gouda Cheese
Fortunately, if you're vegan, you can still enjoy delicious plant-based substitutes to Gouda cheeses. If you can't find these in the grocery store, many are available for sale online. Here are excellent vegan Gouda cheese replacements:
Daiya Smoked Gouda Style Block
Follow Your Heart Dairy Free Smoked Gouda Slices
365 Everyday Value Plant-Based Smoked Gouda Cheese Alternative
Cases Where a Gouda Cheese Replacement is Necessary
One of the main reasons a Gouda cheese replacement may be in order is because most households don't regularly keep it on hand. You may be craving a delicious recipe that uses Gouda cheese but don't have it in the refrigerator or have the opportunity to run out to the grocery store to get some.
Another reason you may need a Gouda cheese replacement is that it's a more expensive cheese. You may be wondering, "Why is Gouda cheese so expensive?" Gouda cheese is imported from the Netherlands, and any imported cheese is naturally going to be more expensive than a US-made cheese. If you're on a budget, buying Gouda cheese may not be feasible.
Even though Gouda cheese is available at most grocery store chains, it may not be available at grocery stores advertised as budget stores, such as Save a Lot or Dollar General. A lot of the reason is that it's pricier and doesn't fall into the budget category.
Another reason you may want to use a Gouda cheese replacement is simple: You or someone else you're cooking for doesn't like its taste. If you don't like it, then you'll need an alternative. If you or someone you're cooking for is vegan, you'll undoubtedly need a plant-based Gouda cheese alternative.
Things to Consider When Using a Gouda Substitute
Even though several kinds of cheese resemble Gouda, there are some factors to consider when using substitutes:
Cheeses melt differently-Important to consider if you're melting a Gouda cheese alternative onto a burger or sandwich.
Shelf life-Each type of cheese perishes at different times/has a maximum aging period. Take this into consideration when planning a recipe.
Since vegan cheese is plant-based, it may require different cooking times and cook and melt differently altogether. Make sure you reference labels and vegan recipes for ratios, measurements, and cooking times.
Cheese flavors- Even though all these Gouda substitutes are similar in flavor, they won't add the same flavor that Gouda would to a dish. Also, keep in mind that each of these cheeses' flavors becomes more pronounced with age, making the taste differ even more.
As a rule of thumb, if you aren't using a plant-based cheese, the Gouda vs. Gouda substitute recipes' measurements are the same. This can also be altered based on your preferences.
Final Thoughts
Fortunately, if you don't like Gouda cheese, only eat vegan dishes, don't have access to it, or can't afford Gouda cheese, there are several substitutes for Gouda cheese.
Munster, Monterey Jack, young cheddar cheese, Edam, Havarti, and Gruyere are similar to Gouda in terms of taste, texture, and properties. There are a few factors to consider when using Gouda cheese substitutes, but otherwise, you'll enjoy a similar, delicious taste to Gouda.
See Also: