There is one comfort that stands above them all. While it may not have much flavor, nutrition or anything that makes a meal.
It is easy, quick and comforts you in ways that no other food can.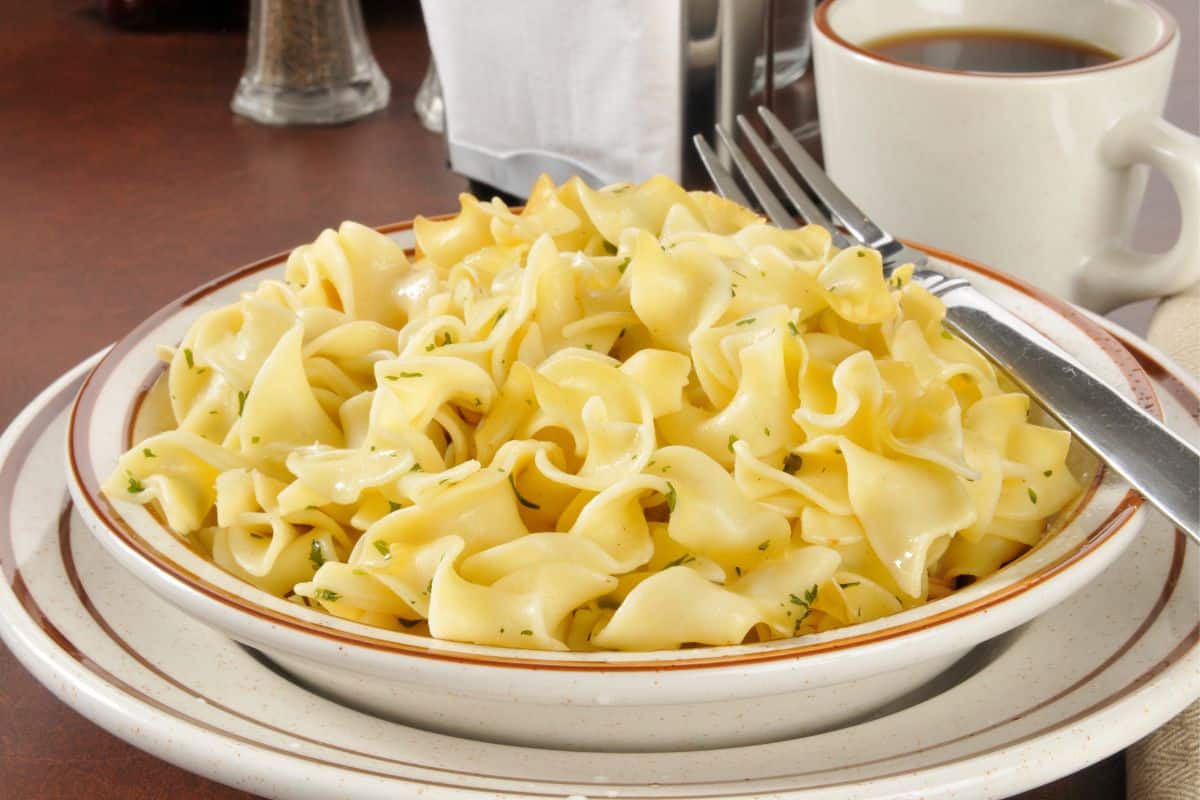 What are we talking about? Buttered noodles.
Cooked spaghetti noodles smothered in melted butter. It is extremely simple, extremely unhealthy, and everything that reminds you of your childhood.
However, sometimes you need a little more flavor than noodles and butter on a plate.
We have 10 of the best side dishes to serve with buttered noodles that add texture, flavor, and nutrition in a fun, creative way.
Let's get into it!
Why Should You Serve Sides With Buttered Noodles?
Buttered noodles are a dish of our childhoods. A tradition that we can then pass onto our kids so that even on the days when they really cannot be bothered cooking, they can always turn to a bowl of comforting Buttered Noodles.
Now, the main flavor component in this dish is butter. And while we love everything about butter, the flavor is not that deep or complex. Adding a few side dishes to this meal can add so much in terms of flavor and indulgence.
They can also add some nutritional value to the meal. Perfect if the idea of making soup or any dish from scratch is just too much.
However, you may not know where to start. Take a look below to find 10 of the best side dishes to serve with buttered noodles!
10 Best Side Dishes To Serve With Buttered Noodles
As your noodles are cooking on the stove, stick these delicious zucchini chips into the oven. Easy and takes no extra time at all!
Coat your sliced zucchini in olive oil, spices, and parmesan cheese before popping them into the oven to become nice and crispy.
If you find that your zucchini chips are not crisping up nicely then there is a quick hack.
Allow your zucchini slices to soak in some salt to really draw out all of the water content. Give them a rinse, pat them dry, and get to seasoning.
Serve with a thick ranch dip for a delicious snack or side to your butter noodles.
You can even make them a few days in advance and store them in the fridge. Place them in the microwave for a few seconds to reheat.
We all love the flavors that tacos and nachos have to offer. But when you need something a little more warming and comforting, this Stuffed Pepper Soup is absolutely perfect.
Using ground beef, rice, bell peppers, and some canned tomatoes, you have a nutritious and utterly delicious soup for any time of the day.
Taking less than an hour to make, this is the perfect weeknight meal that you can make a lot of at once.
Make sure to prep a few portions of this Stuffed Pepper Soup at once and then store it in the refrigerator. Easy to grab, heat up, and serve when you need a yummy meal.
Serve with a sprinkling of cheese and a slice of crusty bread to soak up all that soup.
Roasted Brussels sprouts are a revelation! The greatest roasted Brussels sprouts have an exterior that is crisp and golden and an interior that is tender.
They have a sweet and nutty caramelized flavor that is impossible to resist.
We love munching on these Roasted Brussels Sprouts straight from the pan but you can add them to your noodles for added flavor.
There are various different seasoning combinations you can use but we love using some balsamic vinegar, lemon zest, and red pepper flakes. Top with grated parmesan and enjoy.
This recipe takes a rather bland veggie and turns it into something crunchy and delicious. Perfect for enjoying some comfort food while getting in some much needed nutrition.
You know all those veggies that are slowly dying in the bottom of your fridge? It is time to bust them out and give them a new lease of life with this Vegetable Soup recipe.
Vegetable Soup is probably one of the easiest soups to make. Simply grab your veggies, cut them up, pop them in a large pot with some broth of your choice and a lot of seasoning.
This recipe keeps things completely veggie but you can certainly add a source of protein if you have the time. Some shredded chicken or bacon bits would go perfectly in this soup.
Serve alongside your buttered noodles for more wholesome flavors and a whole load of nutrients.
Make sure to store any leftovers in the refrigerator for an easy meal throughout the week. Or pop in the freezer to have a yummy lunch on hand for a few months.
Forget serving garlic bread with your pasta dishes. These Cheddar Garlic Swirl Rolls are fluffy, cheesy, and truly scrumptious.
These are the savory version of Cinnamon Rolls and they will have your mouth watering as you watch them rise in the oven.
You can make your rolls from scratch or use store bought dough to make things easy. Smother your dough in garlic butter, top with an even layer of cheese and roll them up. Pop them in the oven and just wait.
Don't forget to sprinkle on some fresh parsley for a professional finish that your guests will love.
This sloppy joe recipe is equally fast and simple to prepare as using canned sloppy joe sauce, but it contains significantly less sodium and other additives.
What makes the ground beef so delicious is the seasoning.
Garlic powder, brown sugar, water, mustard, and ketchup are all added to give the beef flavor and that delicious stickiness we all love.
Serve on a toasted bun with cheese and even top with a few pickles for that perfect bite. You may even add BBQ sauce for a delicious tang to your Sloppy Joe.
This dish may take some more time and effort but it is perfect for serving large groups. Place everything on the table and let everyone help themselves. Buffet style.
When you want to be a little healthier, adding more carbs to your pasta is not the best option. This Garlic Parmesan Broccoli is both delicious and healthy.
Make sure to use fresh broccoli for this recipe as frozen broccoli will have too high water content that may not roast well.
Simply place all of your chopped broccoli on a baking dish, cover in olive oil, fresh garlic, salt, and parmesan cheese before letting it roast in the oven.
Or in the air fryer if you find yourself too impatient. We don't blame you!
This is the perfect snack for anyone wanting to be more health conscious. And it works great with those comforting buttered noodles.
Got some mushrooms in the back of the fridge looking a little worse for wear? This Garlic Mushroom recipe will give them flavor and turn them into the star of the show.
Whole meaty mushrooms combine with butter that is softly browning, and at the very end, fresh thyme and garlic are added to the skillet to flavor the browned beauties.
And seen as you already have your butter out, it really would be rude not to.
Make sure to season with salt and pepper to give the mushrooms that delightful burst of flavor they deserve.
Allow them to brown naturally (it will take about five minutes on each side; resist the impulse to stir them). Make sure each mushroom is flavorful and aromatic once the garlic and thyme have been added to the pan.
We all love spaghetti and meatballs, but why not try something new with this Asian Glazed Meatball recipe.
Turkey ground meat is used to make tender Asian-glazed meatballs that are covered in a handmade sticky Asian glaze.
These homemade meatballs are really simple to make and will quickly become a favorite dish for the whole family or the ideal starter for game day.
They are traditionally served with rice but no one is stopping you from adding them to your buttered noodles. Top with a sprinkling of sesame seeds, fresh scallions and if you think you can handle the spice, a few fresh chilies.
Keep some of that delicious sauce and pour it over your meatballs and noodles just before serving. Delicious, comforting, and truly indulgent.
When you want to have a little bit more of a fine dining experience, you have to serve this Salisbury Steak recipe.
Juicy, tender steak cooked in a rich, flavorful sauce. It is the epitome of home cooking and only takes a few ingredients to make.
Think of the process of making meatballs when preparing this recipe. Allow the steaks to finish in the sauce to really soak up all of those gorgeous flavors.
Lay your steak on top of your buttered noodles and spoon some of that flavorful sauce on top for the ultimate dining experience.
Final Thoughts
Now, we all know that when it is midnight and you need a quick snack. The only option is buttered noodles.
However, if you are finding yourself in a rut or that your little ones are becoming fussy eater, side dishes may answer all of your prayers.
Above are 10 of the best side dishes to serve with buttered noodles. From Cheesy Garlic Swirl Rolls to the succulent Salisbury Steak. There is something for everyone to enjoy and to explore some new flavors.