Croissants are such a yummy treat, whether you have grabbed one as a quick snack, or you are enjoying one for breakfast.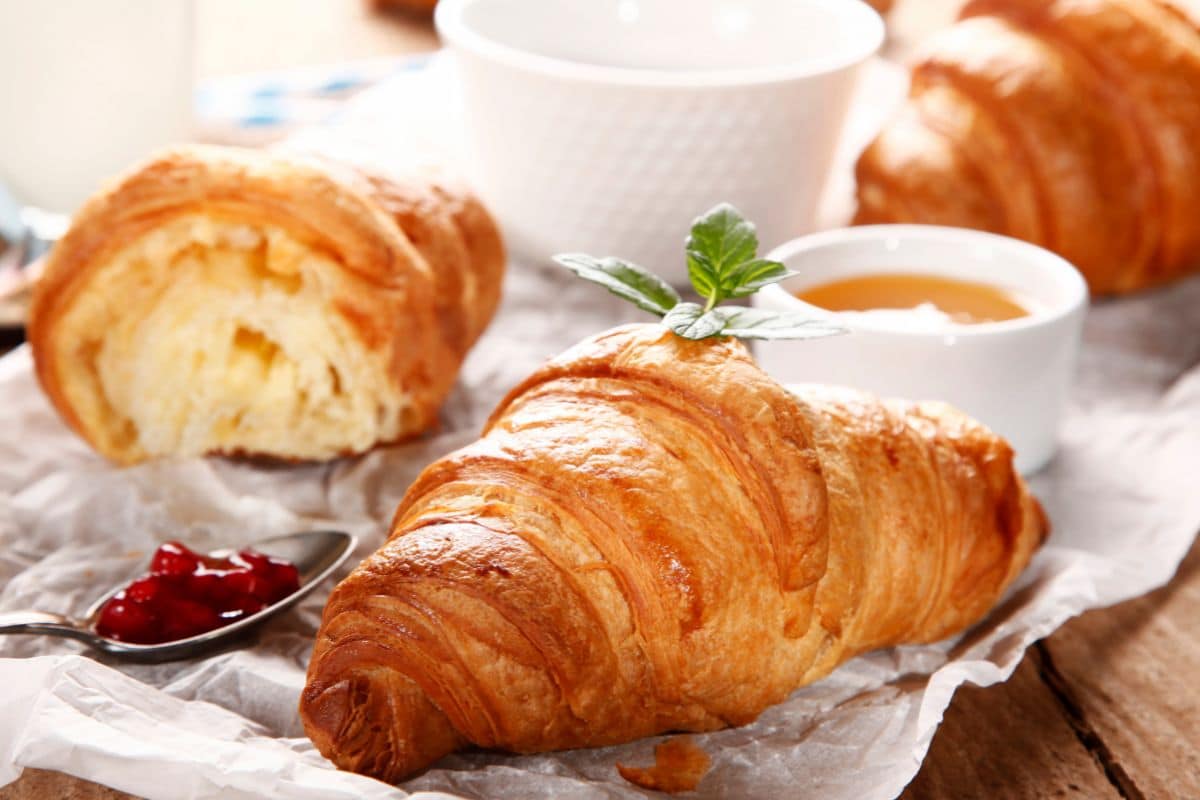 This versatile sweet treat can be enjoyed at any time of the day, and can be eaten plain, or stuffed with delicious fillings.
If you are bored with eating plain croissants, or you are running out of creative fillings to pad them out, you could consider switching things up a little by adding a side dish.
In this article, we have created a list of 7 of the tastiest side dishes to serve alongside croissants. Let's get into it.
1. Fruit
Let's start off this list with a healthy decision, and one that is most certainly suitable for a tasty, colorful breakfast.
Fresh fruit is always a good idea, whether you're having some for breakfast, lunch, dessert, or a quick snack to keep you going throughout the day. Not only is fresh fruit good for you, but it is also so delicious.
If you like your croissants with a topping of jam, then you will love having some fresh strawberries, raspberries, or any kind of berry to eat alongside your yummy pastry.
You could have sliced bananas, apples, blueberries, blackberries… the list goes on.
So, if you fancy something light, sweet and refreshing to eat alongside your morning croissant, we recommend preparing some fresh fruit the night before.
Chop some up, and store them in an airtight container in your refrigerator.
Although, we don't recommend storing the croissant and fruit together overnight, or even for a couple of hours.
The fruit juice will cause the pastry to go soggy, and no one wants a soggy croissant. Store them separately, and bring them together when the time is right.
2. Ice Cream Or Gelato
Who said that you can't eat ice cream for breakfast? And, on the other hand, who said that croissants were only meant to be eaten for breakfast?
Croissants may be known as the ultimate breakfast pastry, but in reality, they can be eaten as a quick snack during the day, or even as a dessert.
When paired with a decadent scoop (or two) of ice cream or gelato, this can become the ultimate morning or early lunch dessert.
If you're a fan of pain au chocolats, it may change your entire life if you were to try a scoop of chocolate chip ice cream with a lovely, toasted croissant.
Or, if you're craving something a little more fruity (and suitable for breakfast) you could have some strawberry gelato.
That is the true beauty of ice cream and gelato; there are so many flavors available that it can be difficult to decide which one you want.
Although, you could quickly solve that problem by having separate scoops of multiple flavors. Life is too short not to, if you ask us…
3. Strawberries (With A Twist…)
Yes, yes, we know that we already mentioned fruit as our first entry to this list. However, this isn't just any fruit: we're talking about strawberries.
Not just that, but we are talking strawberries with a twist.
Strawberries and croissants are a pairing that has been around for the longest time, and for good reason.
Whether you're a fan of fresh, sliced strawberries, or a dollop of strawberry jam on your pastry, this is a combo that never fails to satisfy.
However, we are going to recommend that you soak your strawberries in some balsamic vinegar before serving.
Trust us when we say that strawberries doused in balsamic vinegar is a true winner, and you may never go back once you give it a try.
The vinegar brings out the sweetness of the strawberries in a way that your taste buds will never have experienced before, while adding a slight acidic element to the serving that is somewhat addictive.
If you like, you can stick to a simple bowl of sliced strawberries.
However, if you want to be a little more adventurous, we recommend soaking that bowl of strawberries in a light dousing of balsamic vinegar, and giving it a try alongside a crisp, toasted croissant.
4. Cheese Platter
The cheese platter can be used as a side dish, a starter, or even as a main meal on its own.
The beauty of this creation is that there are no real rules or restrictions on how to make one; as long as you've included cheese, you can get creative.
Generally speaking, you should include the basics on your cheese platter. This includes cold meat, some fruit, olives, and maybe some crackers.
However, we are going to recommend that you add some croissants to your next cheese platter.
Or, rather, you should add a cheese platter as a complimentary side the next time that you decide to chow down on some delicious French pastries. 
As we said, usually people will serve crackers as a form of carbs with their cheese platter. Crackers are used to spread and pile the other ingredients onto, creating a tiny, edible plate for the consumer.
By using a croissant, you not only have more surface area to hold all your food, but you will also be able to enjoy your cheese, fruit, and meat on a softer, fluffier 'plate'.
We seriously think you should think about giving this a try.
5. Scrambled Eggs
How could we discuss any kind of breakfast food without mentioning one of the staple treats of any early morning, the egg?
Fried, poached, hard-boiled… there are so many ways to prepare this food, and they all taste delicious.
However, scrambled eggs have to be one of the tastiest breakfast foods of all time.
There is something so comforting about this fluffy, yellow delicacy, and it tastes so great when paired with a number of different foods.
If you are still searching for the perfect side dish to serve with your croissants in the mornings, why don't you whip up a fresh, warm bowl of scrambled eggs?
You can even slice your croissant open, and add the egg as a filling.
If you have already added a filling to your croissant, though, you can still enjoy a side dish of scrambled eggs.
This is a dish that will go well with both sweet and savory fillings, so you can enjoy it no matter what you have stuffed your pastries with.
6. Chocolate-Coated Strawberries
You may be wondering why we are mentioning fruit as a side dish for the third time in this list… and, well, this is the second time that we have personally mentioned strawberries.
While this may seem like a cop out, allow us to explain. Once again, these are no ordinary strawberries. These are strawberries that have been coated in a thick layer of decadent chocolate.
Everyone knows that fresh strawberries and chocolate-coated strawberries are two completely different things.
One is a tasty yet healthy treat, while the other is an exceptionally delicious dessert which is… well, quite a bit unhealthier than the former. 
If you are seeking out a side dish that leans more towards the sweet side of things, rather than savory, then chocolate-covered strawberries may just be the best thing for you.
Chocolate, fruit, and croissants are the perfect trio, and will make any morning better.
If you are feeling particularly fancy, and you're not too worried about the calorie intake, you could stuff your croissant with some Nutella and berries while serving them alongside the chocolate-coated strawberries.
This truly is the breakfast (or dessert) for a king or a queen. We recommend for anniversaries, birthdays, or any occasion where you are giving someone breakfast in bed.
7. Bacon
Last but not least, we have the ultimate breakfast food that pairs absolutely perfectly with pretty much all food. Bacon is the staple morning snack, and it would be a crime if we did not mention it in this list.
While you could use crispy bacon as a filling for your croissant, or you could wrap it around the pastry while it cooks, you can also use it as a side dish.
Fry up some delicious bacon, plate it up, and enjoy it alongside mouthfuls of croissant.
The contrast between the crunchiness of bacon and the fluffy airiness of pastry is absolutely to die for.
It tastes incredible, no matter whether you are eating the croissant plain, or you have added some fillings.
Similar to scrambled eggs, bacon somehow works well with both sweet and savory fillings.
You could fill your croissant with some fresh fruit, or drizzle it with some honey or syrup, and eat it alongside the salty, meaty snack.
If you are looking for the perfect breakfast pairing, we recommend bacon and croissants. For extra flavor and enjoyment, maybe consider adding some scrambled eggs into the mix, too.
Final Thoughts
Whether you are a savory kind of person who loves bacon in the morning, or someone with a sweet tooth who is constantly craving chocolate, there is a side dish here for everyone.
We don't know about you, but we can't even decide which one of these pairings we'd like to try first. To solve that solution, we recommend that you try them all.
There are seven options, and there are seven days in a week… coincidence? We think not!
We hope you found this article helpful.