If you are a fan of hotdogs and Reuben sandwiches, you've probably had sauerkraut before. Sauerkraut is a fermented cabbage dish that is popular in Germany and the United States. It is made by pickling white cabbage in brine or vinegar and is a popular condiment for many dishes.
Where To Find Sauerkraut in the Grocery Store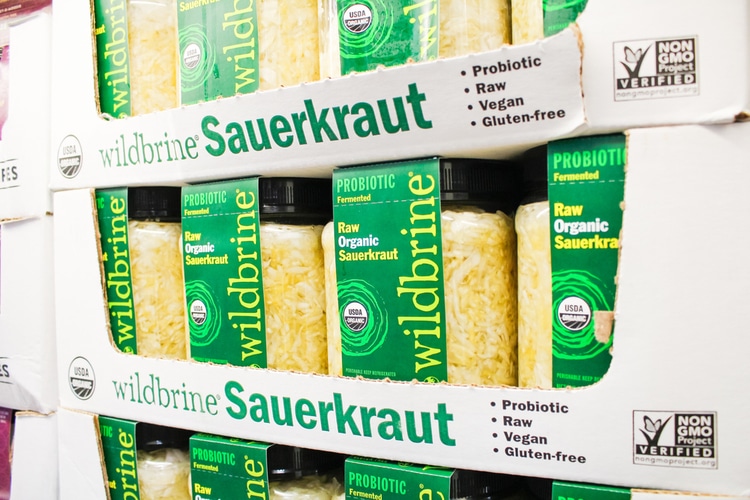 Sauerkraut is usually found in the pickle aisle of the grocery store. It's usually next to other pickled or fermented foods, such as kimchi. Many stores have those items in the condiment aisle/section. If you're looking around and see ketchup and mustard, you're probably close!
If you can't find sauerkraut in the condiment or pickle aisle, try the produce section. That way, the jars can stay cold. You will most likely see them near the fresh vegetables.
Look for a section that is specifically labeled sauerkraut or fermented cabbage. If you don't see it in the produce section, you may also want to check the deli section or the refrigerated sections.
Sauerkraut is easy to find in specialty grocery stores and German markets. If you are looking for a specific variety of sauerkraut, your best bet is to head to a specialty store or health food grocer. Sauerkraut is naturally vegan, but if you want a specific brand that specializes in vegan products, you may have to expand your arsenal of stores.
Where To Buy Sauerkraut Near Me
The best grocery stores for buying sauerkraut will have a produce section, a deli section, and a refrigerated section. You're probably not going to find good sauerkraut in a convenience store.
Some of the most common grocery stores to find sauerkraut include Walmart, Amazon Fresh, Safeway, Target, Kroger, Meijer, and Stop n Shop. However, you can buy sauerkraut in specialty grocery stores and German markets.
Other ethnic stores often sell fermented cabbage items, like kimchi. They'll usually keep those items among refrigerated foods.
Walmart and Kroger
Both Walmart and Kroger are great places to buy sauerkraut because they have large produce sections and deli sections. You can also find sauerkraut in the refrigerated sections at each store. Be aware that sauerkraut companies package their products in different ways, including jars, cans, large tubs, and even bags, so keep your eyes and mind open when you're on your search.
Trader Joes
Trader Joe's sells many healthy items under its brand, including sauerkraut. Find a jar of raw and fermented sauerkraut to pair up with some bratwurst.
German Markets
If you want to go to the source, try to find some German markets in your area. Go to Germanfoods.org to find German markets by state. If you want the "real deal" when it comes to sauerkraut, you can't do much better than a traditional German market.
How To Buy Sauerkraut Online
Don't feel like heading out to the store for sauerkraut? There are plenty of sources for delivery.
Amazon has a nice variety of sauerkraut available for shipping. You can buy crispy, organic, and traditional versions of the product. Buy it as a single product or in a pack of 2 to 12 jars or cans.
Bubbles Sauerkraut is a popular and well-rated brand on the site. Buy it through Amazon Fresh grocery delivery or Amazon.com.
Whole Food is an ideal site for organic food delivery. Find the sauerkraut of your preference and have it delivered the same day. With an Amazon Prime membership, you may also get additional deals to help you save on sauerkraut.
.
This well-known food chain of grocery stores provides Woodstock Sauerkraut in a case of 12 -16oz jars. This case is only available to buy online – not inside the store.
GermanFoods.shop is a site specifically for German foods. Order your sauerkraut and other German specialties for shipment to build a traditional German feast.
Can't Find Sauerkraut? See Top Alternatives
If you can't find sauerkraut in the grocery store, you can try making it at home. There are many recipes online that can show you how to make sauerkraut. Here's a simple one you can use to get started.
Ingredients:
One head of cabbage, shredded
Two tablespoons of sea salt
Directions:
1. In a large bowl, mix the shredded cabbage and salt.
2. Massage the mixture with your hands for about 10 minutes. It will help the cabbage release its juices.
3. Pack the mixture into a jar or container.
4. Press down on the mixture to release more of its juices.
5. Cover the jar or container and let it sit at room temperature for about two weeks.
6. Store the sauerkraut in the refrigerator.
Kimchi
Another option is to try kimchi. Kimchi is a Korean dish made of fermented cabbage and spices. While you can find it in Asian grocery stores, the popularity of Korean food has made it easier to find this item in regular grocery stores as well.
Look for it in the same section as sauerkraut. Health food stores usually have it in stock, as well, since it's great for the well-being of your gut. Be aware, however – kimchi has more of a "kick" than sauerkraut.
Pickled Beets
Another option is to try pickled beets. These are beets that have been peeled and sliced, then soaked in a pickling solution. Like sauerkraut, you can find these at most grocery stores.
Vendors sell pickled beets in the same area as traditional pickles and other pickled vegetables.
You can also find recipes online to make your pickled beets. Keep in mind, however, that their vibrant red color will seep into just about any dish you use them in!
Pickled Banana Peppers
Banana peppers are typically used in Mexican cuisine. They are also popular in Southern U.S. cuisine. Like sauerkraut and kimchi, you can find these at most grocery stores. They will be in the same section as pickles and other pickled vegetables. They're bright in color, and you can usually find them either whole or pre-sliced. Banana peppers will add more spice than sauerkraut, but they're not overwhelming.