Pomegranates are widely known for their delicious taste and versatility in cooking, baking, and adding to dishes for flavor. Pomegranates are also known for their many health benefits, including vitamin sources, preventing cancer, aiding with digestion, and Alzheimer's prevention, to name a few.
Pomegranate molasses (pomegranate syrup) is well known and widely used in Middle Eastern countries such as Syria, Lebanon, and Iran. The process to make pomegranate molasses is to reduce pomegranate juice until it becomes a thicker serum. For pomegranate molasses, you will need sour pomegranates, not sweet ones.
Some people use sugar to help preserve the syrup, but it works well to help thicken the pomegranate molasses. The amount of sugar you use depends on your preference; add to your taste. Add lemon juice to increase the stability of shelf life by becoming an acidic preservative.
If you prefer a more tart pomegranate molasses, you can reduce the pomegranate juice by itself, with no additional ingredients. Pomegranate Molasses will have a shorter shelf life and will take more time to reduce if there is no sugar added.
Pomegranate molasses is not only delicious, but it is versatile and can be used in many dishes. Use the deliciously tart and sweet syrup on salads, in meat dishes, or add to an evening cocktail. There are many ways that adding pomegranate molasses to your side dishes, meals, drinks, and even desserts can add a whole new twist to a tired recipe.
If you do not have pomegranate syrup, no need to worry. Some equally delicious pomegranate molasses substitutes will add that tangy-sweet flavor to your favorite dishes.
Top 5 Substitutes For Pomegranate Molasses
The best substitutes for pomegranate molasses are pomegranate seeds, cranberry juice and grenadine. Raspberry jam and lemon juice are also good pomegranate molasses alternatives.
1. Pomegranate Seeds and Balsamic Reduction
If you do not have pomegranate molasses, sprinkling fresh pomegranate seeds onto your salad will give you the delicious, sweet taste of pomegranate. It will not have the same taste, but it will make a beautiful salad and still have the benefits and tastiness you desire.
You can buy containers of pre-seeded pomegranates and shake over salad, or you can cut open a fresh pomegranate and remove the seeds yourself. Add a light vinaigrette, balsamic reduction, or vinaigrette and you will not be disappointed.
2. Cranberry Juice
Cranberries have the same bittersweetness that pomegranates do, work well as a pomegranate substitute, and are in several dishes. Mix cranberry juice and sugar to make a simple syrup and thicken by heating on the stove until the mixture becomes more solid. You can also use molasses to thicken the cranberry juice.
Adjust the amount of sugar or molasses to your taste, adding more to make it sweeter or more tart with the molasses. This syrup will work very well as a pomegranate molasses substitute. Cranberry juice is a slightly lighter taste, but equally as delicious.
3. Grenadine
A natural and delicious pomegranate molasses substitute when you are making a drink is grenadine. Grenadine is naturally sweet and is a staple in many households that enjoy a refreshment from time to time.
Since grenadine is sweeter than pomegranate syrup, you will want to make sure that you aren't adding any other sweeteners. Alternatively, you can reduce the amount of syrup indicated in the recipe.
4. Lemon Juice and Honey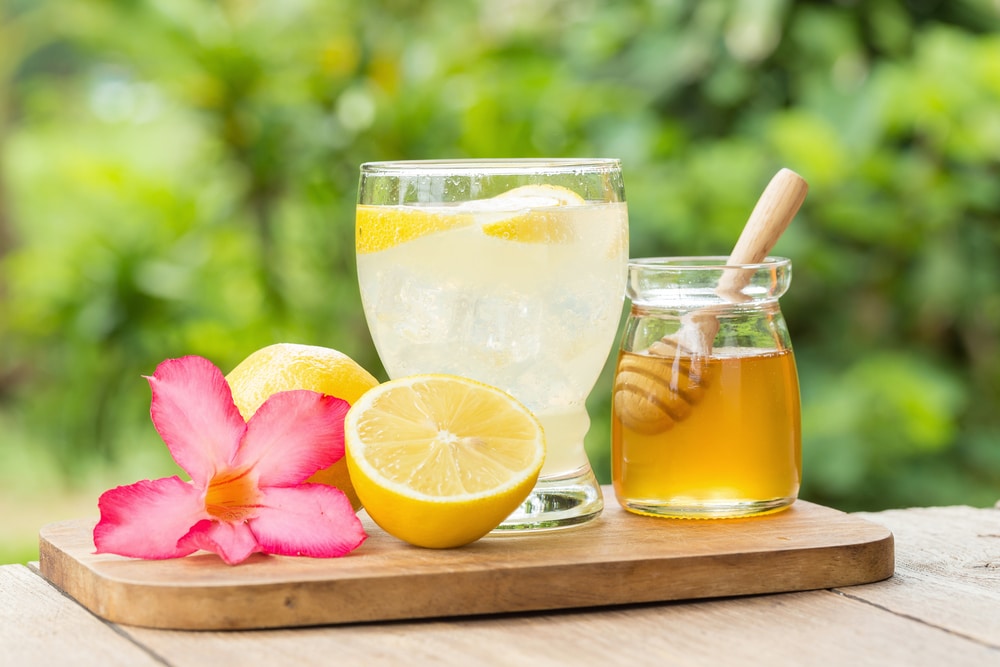 Lemon and honey are delicious ingredients in many dishes; they are also an excellent substitute for pomegranate molasses. Lemon will give you a nice acidity but, you won't get the sweetness that pomegranate molasses has.
Adding a bit of honey to your dish, as well as the lemon, will give it that sweet and tangy mixture that will awaken and delight your taste buds. If you don't have honey, no worries, add maple syrup or sugar to help add a little taste of sweetness with the lemon.
5. Raspberry Jam
A great pomegranate substitute is a raspberry jam or raspberry reduction. Raspberries are fresh and delicious and the raspberry jam or reduction is sweet and fruity. Reduce the raspberry jam until the consistency is thick and then add it to your salad or other dishes.
Raspberries will not only add the beautiful, bright color that pomegranates do, but the sweet and tangy flavor and texture are a spot-on substitution for any dish that you can serve.
How to Make Pomegranate Molasses
Making your pomegranate molasses is easy and needs only three simple ingredients: pomegranate juice, sugar, and lemon juice. The most important thing you will need to make this delectable sauce is time. It takes just over an hour to make this syrup and once finished, you will have enough to last for several recipes to come.
As a bonus, here's the best substitution for pomegranate molasses; making your own. Maybe you already made your own, or perhaps you purchased it and just ran out. Whether you run out or can not find it locally, here's an easy way to make it on your own.
Ingredients:
Eight pomegranates (or 4 cups pomegranate juice)
½ cup sugar
2 tbsp lemon juice
Cut open and squeeze out the juice of the eight pomegranates. Put the seeds in a blender and gently pulse until they are crushed. Alternatively, you can just use four cups of pomegranate juice, rather than going through the trouble of extracting the seeds and juicing them yourself.
Squeeze out as much juice as possible from the puree (using a strainer can be useful with this), then bring to a gentle boil. Add lemon juice and sugar and allow to simmer for about an hour. Remember not to add too much sugar, or it may become too sweet. Do a taste test to see if the reduction is to your liking. It is easier to add more sugar than to try to make up for adding too much.
For the last 10-15 minutes, reduce heat and simmer. Once it cools, store it in a jar in the fridge for up to six weeks, if you have used preservatives; 2-3 weeks if you have not used preservatives. Making homemade pomegranate syrup may take some time, but once it's ready, you'll have it on hand whenever a recipe calls for it.
Final Word
There are many ways that you can make a pomegranate molasses substitute, and they all have unique flavors and bring a tastiness to your dish or drink. Many would argue that no substitution will be as delicious as pomegranate molasses.
Pomegranate syrup can be used in all kinds of salads as a dressing or used in a sauce to go over steak, brisket, or other meats. Adding a dollop of your syrup substitute to vanilla ice cream or cheesecake is a delicious and fresh way to end a meal.
If you require a substitution for pomegranate syrup, several combinations of ingredients will suffice. Remember that cooking is all about experimenting and personal choice. Add a bit of orange juice to your reduction for a bit of a different twist. Grab your alternative ingredients and make the best pomegranate molasses substitute with what you have.