Shirataki noodles are long, white noodles that are common in east Asian dishes. They're low-calorie and high in soluble fiber, which makes them a great addition to your diet if you're hoping to lose weight.
Incorporating shirataki noodles can be a great low-carb replacement for other types of noodles. However, if you're new to this noodle, you might be wondering where you'll find them in your grocery store.
Fortunately, you've come to the right place. Keep reading to learn how to find shirataki noodles, where to buy them, and their best substitutes.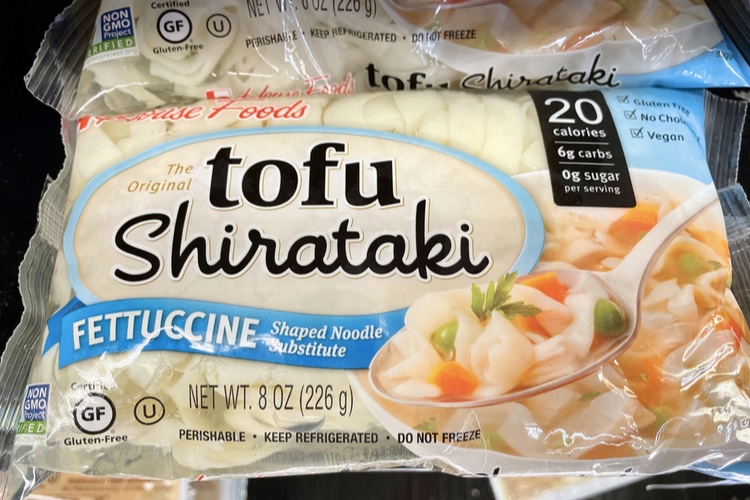 Where to Find Shirataki Noodles in the Grocery Store
You can find shirataki noodles in the produce section, pasta and grain section, or the Asian food aisle.
Also, take note that shirataki noodles go by different names, so you might see them packaged as any of the following:
Konjac yam noodles
Miracle noodles
Devil's tongue noodles
Produce Section
Many grocery stores stock shirataki noodles with their produce. Most produce sections will have a refrigerated area dedicated to tofu, vegan foods, and meatless meat alternatives.
This should be the first place you check, as it's the most likely place you'll find them.
Keep in mind that many refrigerated shirataki noodles will actually be a substitute made from tofu and konjac yam, not just the konjac yam that traditional shirataki noodles are made of.
Pasta and Grain
Since shirataki noodles can be dry or wet, you might find shirataki noodles in the pasta and grain aisle. There are several brands that make dried shirataki noodles, but there's a good chance you'll find at least one at your local store.
Asian Food Aisle
Some grocery stores have an entire aisle dedicated to Asian foods. Since shirataki noodles are so prevalent in East Asian cuisine, you might be able to find them in that section.
So, if you've checked the refrigerated and pasta sections to no avail, this will be one more place to look.
Where to Buy Shirataki Noodles Near Me
Most major supermarket chains will offer shirataki noodles in some form. In addition, there are several Asian supermarket chains with stores in the US where you'll find a wide selection of east Asian foods.
Asian Grocery Stores
Many of the Asian grocery stores in the US have limited locations. However, if you're in an urban area or live in a city, you might have smaller mom-and-pop style stores available.
H-Mart
99 Ranch Market
Kam Man Food
Tokyo Central
Marukai
Ninjiya Market
Mitsuwa Marketplace
Standard Grocery Stores
You can also check your standard grocery store if you don't have an Asian market in your area. Many have extensive vegetarian/vegan and Asian sections where you can find shirataki noodles.
Publix
Acme
Trader Joe's
Aldi
Shop-Rite
Kroger
Whole Foods
Costco
Food Lion
Wegmans
Giant
Lidl
Meijer
Safeway
Save-a-Lot
Harris Teeter
Sprout's
Target
Winn Dixie
How To Buy Shirataki Noodles Online
Many of the supermarkets listed above offer online shopping, so you could check any of those to see if one might be able to deliver to your area.
However, if you don't have a store nearby with shirataki noodles in stock, here are a few online options you can try.
Amazon
As a massive online retailer, Amazon is one of the best places to check for groceries you can't get locally. In fact, they have one of the widest selections of shirataki noodles and substitutes you'll find online.
In addition, many are available with same-day or overnight shipping, depending on your area.
Miracle Noodle
Shirataki noodles are often called "miracle noodles," making this aptly-named online grocer a great place to get your shirataki noodles. Miracle Noodles has a sizable selection of noodles, soups, rice, and other specialty groceries that you might have a hard time finding locally.
Thrive Market
Thrive is another online grocer with a large selection of specialty foods. Thrive has a variety of shirataki noodles in different flavors, as well as many other food items you might not be able to get in-store locally.
FreshDirect
FreshDirect is an online grocer that provides foods for all types of cuisines. One way it stands out from some of the other online grocers is that it offers cold foods.
That means you can find one of shirataki's most common substitutes, tofu shirataki, on their site and have it delivered.
Can't Find Shirataki Noodles? See Top Alternatives
Shirataki noodles have a relatively mild flavor, so it's surprisingly easy to swap them out for a different type of noodle or grain.
Rice Noodles
Rice noodles have a similar taste and mouth-feel to shirataki noodles, making them a great alternative. In addition, they soak up flavors just like shirataki noodles.
So if you're looking for a substitute, rice noodles will probably be your best bet.
Spaghetti or Angel Hair
Spaghetti will only work as a substitute for certain dishes because it comes with its own flavor that may not work well with whatever you plan to combine your noodles with. But depending on your recipe, you might be able to use the spaghetti that's already in your pantry.
White Rice
If you simply need a mild base that provides bulk to your dish, plain white rice could work well as a substitute. It absorbs flavors the same way shirataki does, and is also a bit more versatile, as you can add it to dishes in a variety of cuisines.