Tofu can be used in many different ways and add tons of flavor to any dish. It is a vegan product that can replace many types of meat and is a popular choice for vegetarians and vegans.
What aisle is tofu in? Check the food produce aisle or refrigerated section of grocery stores like Walmart, Kroger and Target.
If the produce section and international aisles do not have tofu, check the dairy aisle with cheese and non-vegan products.
Where do you Find Tofu in the Grocery Store?
You will find tofu in the produce section of the grocery store. Tofu is generally refrigerated, which means you may also find it in the refrigerated section in addition to the produce aisle. However, you may discover vacuum-sealed packs of tofu elsewhere in the store.
Some types of tofu that do not need refrigeration can be found in the international section of the grocery store. Silken tofu is often vacuum-sealed, extending its shelf life in the typical aisles of a grocery store.
You may find tofu located next to the vegan meatless options if the store has such a section. Other times, it may reside in the store's refrigerated dressings and toppings area. Of course, once you find what you are looking for, you'll need to see whether the store has the firmness option you prefer.
What does Tofu look like in the supermarket?
Chilled tofu often comes in a small, white plastic container with a semi-transparent plastic covering labeled "tofu." These packages look similar to cheese or deli meat containers. Tofu also comes in boxes, just like instant rice or pasta mixes.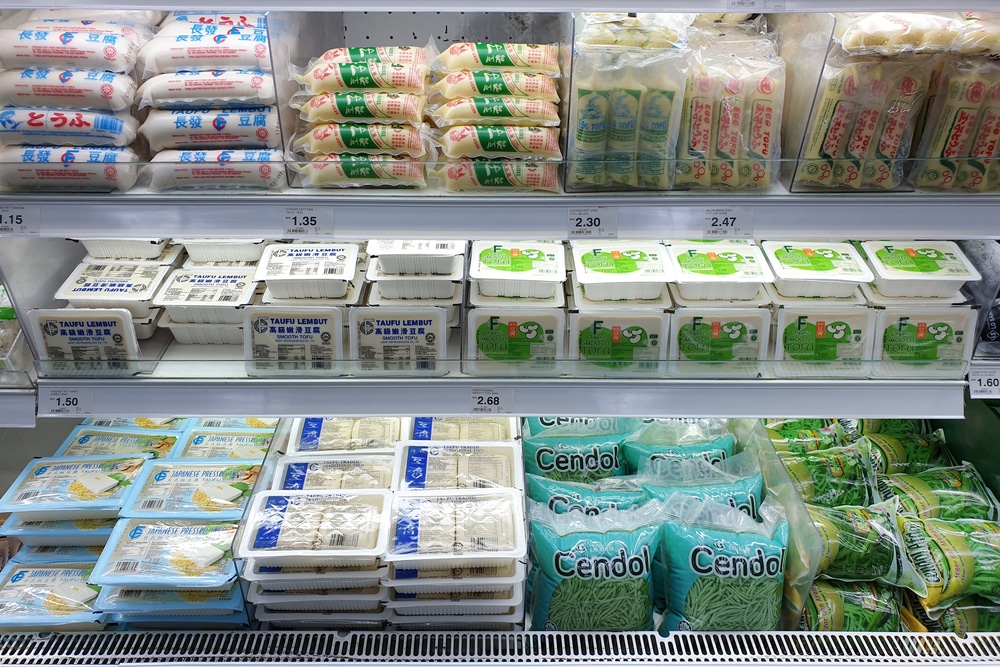 What is the price of tofu?
A block of tofu itself is usually $1 to $2.
General ingredient prices vary so much according to production, demand, and major economic factors. Tofu prices, on the other hand, stay relatively stable since it's made of soy milk.
Meat-like products that use tofu are more expensive while remaining cheaper than the meat versions.
What are the best brands of Tofu to buy?
There are many popular brands of tofu you can buy, such as:
Pulmuone Soga
Nature's Express
Mori-Nu: Get it here
Simple Truth
365 by Whole Foods
Where to buy Tofu near me?
Some popular local grocery stores to buy tofu are:
Kroger
Walmart
Meijer
Target
All health food stores and natural food stores have tofu in their stores. If a grocery store has organic, vegan, and vegetarian options, they most likely have tofu available. If there is no natural or organic food section, you can usually find tofu in the produce section.
Kroger offers tofu in many varieties, such as Simple Truth, House Foods, and Nasoya organic firm tofu.
In department stores that offer everything from groceries to household products plus everything else you could need, it is tricky to identify precisely where the tofu would be. In stores such as Meijer, Walmart, and Target, the tofu is usually, if not always, at the edge of the produce section.
Local and organic grocery stores such as Whole Foods Market have a wide array of products that can be easier to find than large department and grocery stores.
Almost all products that are in Whole Foods are vegan, keto-friendly, vegetarian, or gluten-free. Since they only offer healthy food options, they have more varieties of tofu available for you to choose from.
How to buy Tofu online
Most online retailers that offer tofu sell the product in bulk. They are:
Amazon
Thrive Market
Whole Foods
Fresh Direct
Amazon is a popular online market that supplies fresh tofu directly to consumers. This website also sells bulk brands of tofu which can help save money. Amazon is a retailer that often offers the most options and at the best prices.
Another popular online store that offers tofu is Thrive Market, which only sells organic and vegan-friendly products. There is a minimum amount you can buy online to have it shipped to your house. Thrive Market does not have as many options as other online tofu retailers, but they have amazing deals on the products they offer.
Whole Foods Market is another popular retailer that offers tofu that can be shipped directly to the consumer, and they have a wide range of products available for their customers. With thirty-plus options of tofu available, it is easy to see why they are a popular choice for organic and vegan-friendly options.
Fresh Direct is a grocery delivery company that offers fresh food online. They offer tofu from several different brands and of various sizes. The main benefit of this website is that you do not have to buy in bulk if you do not desire to in order to get the deals.
If you are looking for a direct online ship-to-home experience, you can use a grocery delivery service such as Instacart, Doordash, or another delivery service. The delivery service allows you to receive your product as quickly and fresh as possible. Instacart is a popular and well-known service that can allow another shopper to identify where the product is and do all the work for you.
How long does store-bought tofu last after opening?
The length of time that store-bought tofu lasts after opening varies according to the type you buy. Whether you buy blocks of tofu or shelf-stable tofu, both choices are generally only good for a few days once you open them.
Many tofu brands will tell you right on the label how long they last after opening, so it's always worth checking to see what the manufacturer recommends. Three to four days is a good estimate, but the companies know their product best and might advise you to use all tofu within 24 hours of opening the package.
If you've made a recipe using tofu, the leftovers are usually good for three to four days also. Make sure you store them in the fridge in an air-tight container to prevent spoiling.
How to properly store tofu after opening
You need to store any tofu leftovers in the refrigerator after opening, no matter what type of tofu you purchased. Put them in an air-tight container and keep them in the fridge for three or four days.
Make sure your tofu is still good by inspecting it before you cook it. If even a small corner has mold, throw out the whole block. Tofu should be white or cream-colored, so if yours is yellow or darker, you should toss it.
Tofu doesn't have much of a smell, so if yours smells sour or strange, it's best to not use it. If you cook with tofu and then find that your finished meal has a strange, bitter taste, your tofu might be bad. Tofu normally has a neutral flavor, so anything strong or out of the ordinary could be a sign it's not good for you anymore.
Should tofu be refrigerated?
Yes, tofu can be refrigerated but it depends on where you buy from. If you find tofu in the refrigerated section of the grocery store, you need to store that in the fridge even before opening the container. Promptly store any leftovers in the fridge and eat them within three or four days.
If you buy shelf-stable tofu from the dry goods section of the grocery store, you don't need to refrigerate it immediately. You can instead keep it in your cabinet or pantry until you're ready to use it. However, once you open the package, store any leftovers in an air-tight container in the fridge.
What can i get instead of Tofu?
If you cannot find tofu, you can substitute several alternatives.
The top three are:
Chickpeas, also known as garbanzo beans, are a great fiber, vitamin, and protein source. Chickpeas can be an easy substitute if you use tofu in a salad or mix it into a recipe. Like tofu, the protein in chickpeas replaces meat, which makes it an obvious choice if you cannot find tofu.
Quinoa is known for living under a plant-based diet and offers a great deal of protein. Like chickpeas, you can place quinoa in a salad, pasta, or any dish that needs a protein replacement. While quinoa provides protein, it is also a good source of fiber, more so than tofu.
Beans are not as common an alternative to tofu as the other options discussed, but they are an easy replacement. Black beans are a healthy source of protein and are used in plant-based diets.
Cannellini beans are also known as kidney beans and are great for making soups and salads but require more preparation as a dry bean than other alternatives.
Many dishes that use tofu as a protein source or to add texture are easy to find substitutes for. However, if you must have authentic tofu, plenty of grocery stores carry this versatile ingredient.
More Grocery Store Questions: